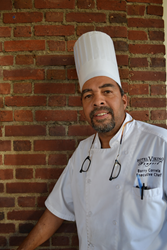 Each week, we'll pair a three-course dinner with three beers from the featured brewery.
Newport, Rhode Island (PRWEB) February 19, 2016
Hotel Viking kicks off 9 Weeks of Beer, a series of innovative menus paired with craft beers from some of New England's top breweries, on March 9. First up, Hotel Viking Chef Barry Correia and his team offer a menu designed to pair with brews from Samuel Adams. The fixed-price menu starts with an appetizer of endive salad with pistachio brittle, pickled cauliflower, shaved red onion and herb oil, followed by a main course of fried cod served over mashed rutabaga with savory braised kale. And to finish: cheesecake (beer-flavored, of course).
This year's 9 Weeks of Beer continues Hotel Viking's winning streak of theme events including its widely popular Spirits & Stogies nights and its Viking Wine Festival. For reservations, call 401-848-4813.
"Our beer distributors helped us compile a list of breweries that would be interested in participating," said Chef Correia. "Each week, we'll pair a three-course dinner with three beers from the featured brewery." The series will run for nine weeks on Wednesday nights. Beer parings are served in 6-oounce pours.
"Newport is breaking out of cabin fever at this time year," said Correia. "We'll have a fire blazing in the fireplace on our outdoor patio. We invite diners to stick around and have a cigar or a drink by the fire."
Full Schedule: 9 Weeks of Beer
March 9 SAMUEL ADAMS
Appetizer: Endive salad with pistachio brittle, pickled cauliflower, shaved red onion and herb oil
Fried cod served over mashed rutabaga with savory braised kale
Dessert: Beer-flavored cheesecake
March 16 GREY SAIL BREWING OF RHODE ISLAND
Appetizer: Fried mozzarella wedge with sundried tomato pesto and frisée
Entrée: Grilled sausage with creamy polenta and braised kale
Dessert: Tiramisu
March 23 MAGIC HAT BREWING COMPANY
Appetizer: Orange arugula salad with Mandarin oranges, shallots, sliced red pepper, miso herb vinaigrette
Entrée: Shrimp risotto with crushed peanuts, scallions and chili oil
Dessert: Sweet-soy cheesecake-filled fried wonton
March 30 NARRAGANSETT
Appetizer: Pulled pork with arancini and jalapeno aioli
Entrée: Jerk chicken with corn bread and seasonal slaw
Dessert: Dirt pudding chocolate layered love
April 6 FOOLPROOF BREWING COMPANY
Appetizer: Ham en croute
Entrée: Award-winning chili with cheddar cheese, scallions and crostini
Dessert: Vanilla ice cream with berries and fresh whipped cream
April 13 TWO ROADS BREWING COMPANY
Appetizer: Assorted mashed root vegetable crostini with brie cheese and brown butter glaze
Entrée: Oxtail pot pie with apple slaw
Dessert: Coffee panna cotta
April 20 REVIVAL BREWING CO.
Appetizer: Fried black mission fig with shaved pecorino and roasted red grape
Entrée: Pork belly with braised cabbage, golden raisin and pan jus
Dessert: Beer bread pudding with fresh cream
April 27 HARPOON BREWERY
Appetizer: Charcuterie board with assorted meats, cheeses and marinated red pepper Entrée: Shredded chicken stew with potato dumplings
Dessert: Warm chocolate lava cake with espresso whipped cream
May 4 WACHUSETT BREWING COMPANY
Appetizer: Meatballs with beer gravy
Entrée: Coq au vin with mushroom and red wine
Dessert: Beer ice cream with peanut tuille
Follow @HotelViking on Facebook, Instagram and Twitter for updates, photos and contests.
About Hotel Viking:
Hotel Viking, a member of the Historic Hotels of America, is located at One Bellevue Avenue in Newport, Rhode Island. Hotel Viking offers 208 elegantly appointed guest rooms and suites. With more than 13,000 square feet of event space, including two ballrooms, boardrooms and private meeting space, Hotel Viking easily accommodates groups and weddings large and intimate. Hotel Viking's culinary experiences include the award-winning One Bellevue, which offers three meals and Afternoon Tea daily, indoor and patio dining, as well as a bar and lounge. Top of Newport is Hotel Viking's seasonal roof top lounge offering live entertainment and special events and menus. SpaFjör features a selection of massage and skin treatments. Additional amenities include an indoor heated pool, fitness center, courtyard and the historic Newport Kay Chapel. Hotel Viking is a 30-minute drive from TJ Green Airport (27 miles) in Providence and the Providence Train Station, and is driving distance from Boston (70 miles) and New York City (170 miles). For information, please contact Hotel Viking 401-847-3300 or visit online at http://www.hotelviking.com. Be social at http://www.facebook.com/HotelViking and http://www.twitter.com/HotelViking.
About Pyramid Hotel Group:
Pyramid Hotel Group manages and asset manages a diverse portfolio of resorts in one of kind destinations across the United States, Europe, and the Caribbean. These locations range from Hawaii to Arizona to Florida and to the Cayman Islands. Pyramid Hotel Group delivers creative, engaging experiences for the leisure and group guest inclusive of golf, spa, fitness, dining, meetings, recreation, water sports, and cultural immersion. http://www.pyramidhotelgroup.com