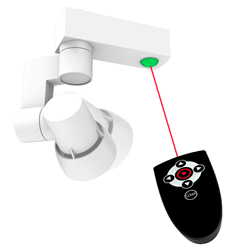 Soon, we will be wondering why we were ever getting up on ladders.
Somerville, MA (PRWEB) February 18, 2016
Loto Lighting today announced the availability of the smallest motorized light fixture ever created for the display, gallery, and hospitality industry. The Tessa can be adjusted without a ladder by using a simple remote control, so it is perfect for small shops and galleries or tight window displays, providing increased safety and convenience at a reasonable price.
"This is transformative," says VP of Sales Barry Johnston. "We are replacing other fixtures all across the specification market. The lighting designers understand the benefits immediately."
Motorized lighting is an idea that has never been fully developed where it is needed most. Long reserved for entertainment or high-end functions, it is now available in more familiar fixtures used in display, thanks to a set of custom built motors, and a patented control method using a laser to select each lamp, then radio to drive the motors.
The control scheme allows for one remote to control any number of fixtures. Smart phones and special apps are not needed, and there is no additional equipment or setup. Fixtures can be installed in traditional fashion.
"You only need to install 10-20 Loto fixtures in the front of your store," said founder Tom Devlin, "and your whole world changes. What used to take hours, now you can do in minutes, by yourself. And it is so critical keep freshening displays in high-traffic areas."
The Coach flagship store in New York City uses Loto driven fixtures in its 20-foot tall atrium, allowing for seasonal display adjustment without bringing in a mechanical lift.
"In some ways, we're more of a safety company," said Devlin. OSHA reports that the cost of ladder injuries in the US is $11 billion per year, and 425,000 injuries occur in the retail trade alone. "But what we really sell is a convenience that is sorely needed, and worth it."
2016 will mark the year when the company raises the expectations and standards of customers in the retail, gallery, and hospitality market. Loto Lighting is building an entire line of motorized fixtures for a wide range of lighting needs. There will be high output track fixtures using COB components, a range of recessed fixtures using a unique motorized gimbal, and pendant systems. These new fixtures will also have individual dimming control.
The Tessa is compatible with most popular track systems, and uses an MR16 lamp with GU10 socket. Tessa will be paired with the popular SORAA lamp.
Loto Lighting will be selling through national account lighting distributors and select online resellers.
Background:
Founder Tom Devlin, an MIT engineer and art school graduate, built his first motorized light fixture in 1989 for his graduate thesis at the Royal College of Art in London using a computer controller. (James Dyson had graduated a few years earlier.) His lamp seemed to have an obvious benefit, but the technical hurdles were too difficult and expensive. He went on to become a successful consultant designer and inventor in Boston, creating new products for companies such as Gillette and Oral-B.
But Tom wanted to finish what he started. When laser pointers became commonplace, he realized that he could do away with a computer completely, using the precise beam of light to select each lamp instead of requiring an address code. Years of development followed, with attempts at licensing to other lighting companies. Finally, he found a match made in heaven with Forma Lighting, a highly respected Milan based company that does not sell in USA. The companies divided worldwide territories, then set about sharing each others' know-how in an unprecedented explosion of creativity, with Loto developing customized gear motors and controllers to suit Forma's extensive portfolio of design. Tessa is a first glimpse of the large catalog resulting from this collaboration.
About Loto Lighting
Loto Lighting sells motorized light fixtures for convenience and safety in a dynamic display environment where frequent scene changes are needed. These superior luminaries provide excellent quality of light along with increased adjustability at a similar price to traditional fixtures. With a simple selection and control scheme that has no additional installation requirements, the company is opening the door to a new class of lighting for the industry. For more information, please visit http://www.lotolighting.com
Note to editors: Loto Lighting and Tessa are trademarks of Loto Lighting LLC. SORAA is a trademark Soraa Inc.
Contact:
Tom Devlin
617-776-3115
tedevlin@lotolighting.com
http://www.lotolighting.com