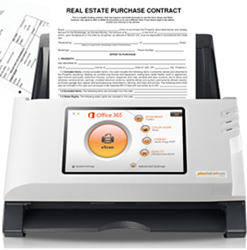 SANTA FE SPRINGS, Calif. (PRWEB) February 18, 2016
Plustek Inc., a leading manufacturer of document, film and book scanners, announced today it will unveil Plustek eScan for Office 365, a dedicated standalone one-step scanner to bring paper documents to Microsoft Office 365, at the SharePoint Technology Conference in Austin, Texas on February 21-24, 2016.
Plustek eScan for Office 365 is a standalone scanner that features a seven inch touchscreen with built-in Wi-Fi and Ethernet network connectivity which allows users to also scan paper documents to email, FTP sites, shared folders, clouds, USB drives, and to mobile devices, without being connected to a PC.
The eScan for Office 365 provides a straight-forward scanning operation process. Document type, resolution, and the digitized images can be previewed for modification before sending to its final destination. Users are also able to save the job functions, making it simple to scans to the same destination in the future.
Even though digital documents are quickly taking over, paper documents are still commonplace in most office settings. Whether they are legal documents, notarized documents, documents with signatures, receipts, and/or tax information, the most sophisticated way to digitalize those papers is still by using a document scanner. The conventional way of scanning might involve steps to correctly digitize a document and deliver it to the right place, including a driver, scan control, and applications. Plustek eScan for Office 365 is designed to bridge the interactions between people, paper and the cloud. Microsoft SharePoint has been widely adopted by enterprises as a beneficial platform for workflow and collaborations. However, getting paper documents in the right place can be a hassle, but the Plustek eScan for Office 365 relieves the hassle by simply bringing paper documents to wherever they need to go in an efficient manner.
"Today Plustek is taking eScan A150 to the next level with eScan for Office 365; this is the missing link to make Microsoft Office 365 a fully integrated system!" said Robert Fuchs, marketing manager of Plustek USA. "We're thrilled to introduce the first Office 365 network scanner into the marketplace. Its simplicity and ease of use will encourage users to fully take advantage of Microsoft Office 365 and cloud document imaging."
The Plustek eScan for Office365 is able to simply reorganize the credential process and scan documents into SharePoint, OneDrive and Outlook and requires no PC to operate. Users just scan a document, input their login and password, browse the folder and place the documents for the first time and be able to save multiple job buttons for various destinations of Office 365. IT administrators can even simplify the process more by pre-configuring the device so each staff members has an assigned folder customized to their needs. Plustek also offers a variety of connectors for document management solutions, such as FileBound and eFileCabinet.
SharePoint Technology Conference hosts more than 80 technical classes and tutorials presented to help those utilizing SharePoint technology and Microsoft Office 365 and maximize their effectiveness with them. For more information visit http://www.SPTechCon.com.
Plustek invites SharePoint Technology Conference attendees to visit booth #802 to try out this innovative scanner.
About Plustek USA
Based in Los Angeles, Plustek Technology designs and manufacturers an array of scanners that including document, portable, library, book, film and photo scanners. With 30 years in the imaging scanning business, Plustek brings advanced technologies and solutions for variety of paperless need. For more information, please visit http://www.plustek.com/usa.