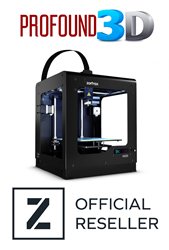 The printers offered on Profound3D will work consistently, generate functional 3D prints, and won't become dust collectors.
Exton, PA (PRWEB) February 23, 2016
Media Supply, Inc., a leading supplier of data duplication equipment, specialized printers and blank data media, announced the launch of its new website focused on 3D printing solutions, Profound3D.com. The new website is a combination of a clean e-commerce site, featuring the highest quality products in 3D printing, and product information focused on 3D print technology in education. Through high-level customer support, premium products and fast order processing, Media Supply has become an established leader in the data distribution industry, and now the same support team is behind this new 3D printer specific site.
Profound3D.com offers desktop 3D printers from industry leading manufacturers including Zortrax, Afinia, MakerBot, 3D Systems and Robo3D, all selected for the high quality and value they bring to the 3D printer marketplace. "So many 3D printers are purchased based only on price, and it unfortunately has created a situation where many of the printers currently in schools are now just paperweights," said Frank Quinlisk, Media Supply's Vice President. "The printers offered on Profound3D will work consistently, generate functional 3D prints, and won't become dust collectors."
Profound3D.com is now a US Distributor for Zortrax 3D printers and supplies. Zortrax printers are one of the highest quality desktop 3D printers available, and have received multiple awards based on customer reviews for their ease of use and rock solid automation.
"Our goal for Profound3D was to build a site that had great info, great products and a simple checkout," said Mr. Quinlisk. "After months of work and preparation, Profound3D.com accomplished this with its content and accessibility."
The Profound3D blog, a key portion of the site, was developed for educators. It brings visitors the latest updates in software, equipment and curriculum packages being developed for the 3D printer makerspace.
Profound3D.com also features customized 3D printer bundles designed for educators. These bundles offer educators a special discount on combinations of 3D printers, 3D printing filament and toolkits, brought together to make first time 3D printing simpler. Coming soon to the site will be curriculum packages based on grade specific groups, so educators can get a head start on projects and ideas for introducing 3D printing to the classroom.
About Media Supply:
Media Supply, Inc. is approaching its 30th year of providing duplication equipment and specialty printing products, designed to meet the requirements of those wishing to distribute products and information in data, audio or video form. The company's key products and services are premium blank media, custom USB flash drives, 3D printers, USB duplicators and duplication supplies. Media Supply is headquartered in Exton, Pennsylvania. For more information, visit their website at http://www.mediasupply.com or call 1.800.944.4237.