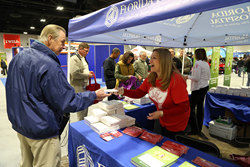 We are proud to join with our partners at Florida Hospital and WFLA in finding fun, interactive ways to help the Tampa Bay community learn more about health and wellness
Tampa, FL (PRWEB) February 17, 2016
For the second consecutive year, Florida Hospital will partner with the Tampa Bay Buccaneers in sponsorship of the 8 on Your Side Health & Fitness Expo. The event will take place on Friday, February 19, from 10 a.m. – 8 p.m. and Saturday, February 20, from 6 a.m. – 5 p.m. at the Tampa Convention Center's East Hall. The dates, times and location coincide with the Gasparilla Distance Classic races.
"We deliver Inspired Health every day at our hospitals, helping our community live healthier and happier lives. Encouraging the residents of Tampa Bay to be active is an essential cornerstone for improving the overall health and wellness of our community," said Mike Schultz, President and CEO of the Florida Hospital West Florida Region. "We are excited to once again partner with the Tampa Bay Buccaneers to help sponsor the 8 on Your Side Health & Fitness Expo."
Florida Hospital, the Exclusive Hospital of the Tampa Bay Buccaneers, and the team are committed to the health and wellness of the Tampa Bay community. Through their efforts, admission to the expo is free and open to the public. Several of the area's leading health and fitness professionals will be on hand to help visitors learn how to make choices that lead to a more healthy and fit lifestyle.
"As a professional sports organization, we understand the importance and value of physical fitness from both a professional and personal standpoint," said Buccaneers Chief Operating Officer Brian Ford. "We are proud to join with our partners at Florida Hospital and WFLA in finding fun, interactive ways to help the Tampa Bay community learn more about health and wellness."
The Buccaneers and Florida Hospital will offer activities for the entire family, including interactive football drills, gifts for runners, fun photo opportunities, and special guest appearances by Buccaneers players and cheerleaders and mascot, Captain Fear.
Florida Hospital West Florida Region
The Florida Hospital West Florida Region is a not- for- profit 1,275-bed hospital system composed of Florida Hospital Tampa/Pepin Heart Institute, Florida Hospital Carrollwood, Florida Hospital at Connerton Long Term Acute Care, Florida Hospital North Pinellas, Florida Hospital Wesley Chapel, Florida Hospital Zephyrhills, Florida Hospital Heartland Medical Center Sebring, Florida Hospital Heartland Medical Center Lake Placid and Florida Hospital Wauchula. Part of the Adventist Health System, Florida Hospital is a leading health network comprised of 22 hospitals throughout the state. For more information, visit FloridaHospital.com.