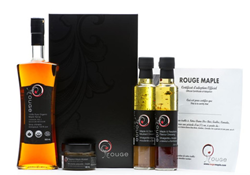 "We feel rouGe is ideally suited for the Nominee Gift Bag since only 5% of our total maple syrup production makes it into a rouGe maple syrup bottle and similarly only a small percentage of movies or actors are actually nominated for an award."
MONTRÉAL, Québec, Canada - (PRWEB) February 19, 2016
rouGe and its ultra-premium rouGe 100% Pure Organic Maple Syrup, has been selected for the fourth year running to be part of the "Everyone Wins" Nominee Gift Bag in honor of the OSCARS® .
rouGemaple.com was the first to offer consumers the opportunity to adopt a maple tree and receive all the maple syrup their tree produces. For the "Everyone Wins" Nominee Gift Bag, rouGe created special VIP Adoption Certificates for the nominated celebrities.
More commonly known as "Swag Bags", Celebrity gift bags are given to artists that are nominated at the major award ceremonies in the entertainment industry. These gift bags can contain a wide variety of luxury and designer items with the value sometimes reaching the tens of thousands of dollars. They are often the topic of major network television shows such as Oprah, in the past and more recently, the Ellen DeGeneres Show and Good Morning America.
"We are obviously very excited and proud to again be offering celebrities our array of products. This year is a little more special than previous years in that we are celebrating a victorious fight against cancer that our president, Julie DeBlois faced last fall. Throughout her fight, Julie kept her smile and was grateful for all who supported and helped her. She strongly believes that we should appreciate even the smallest things in our lives and she wanted to provide a means for people to share their gratefulness towards others more often. With that in mind, we've decided to embrace that idea and offer Julie's Thank You Candies to all our customers and that includes our celebrities!" comments a spokesperson from rouGe.
People recognize rouGe as an ultra-premium organic maple syrup. Every step in producing this fine organic maple syrup – from harvesting the sap in the pristine forests of Notre-Dame-Des-Bois, Quebec, Canada, to the centuries-old process and individual selection and packaging of each bottle – is done with the utmost precision and care.
"We feel rouGe is ideally suited for the Nominee Gift Bag since only 5% of our total maple syrup production makes it into a rouGe maple syrup bottle and similarly only a small percentage of movies or actors are actually nominated for an award." notes the rouGe spokesperson. "Our ultimate goal is to bring the real and natural goodness of organic maple syrup to as many people as we can, and that includes celebrities of course!"
About rouGe (rougemaple.com)
rouGe is a Canadian based online company that offers consumers and corporations (through corporate gifts) a unique way to purchase the highest quality organic maple syrup and was the first to offer an "Adopt-a-Maple-Tree" program. rouGe maple syrup is 100% pure and 100% certified organic. rouGe gourmet products are based on proprietary recipes developed by executive chefs and produced with the highest quality ingredients and care. Please visit rougemaple.com for a full listing of our products.
*Please note, this Gift Bag is not affiliated with the OSCARS® or the Academy of Motion Picture Arts & Sciences; the Academy of Motion Picture Arts & Sciences does not award, sponsor, endorse or provide these gift bags.
Press Contact: Rouge(at)rougemaple(dot)com