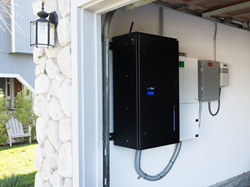 Campbell, CA, USA (PRWEB) February 18, 2016
JuiceBox Energy, a privately-held Silicon Valley company committed to providing safe, reliable, intelligent, and connected energy storage, and Simmitri Inc., a provider of sustainable energy solutions, have partnered to offer Silicon Valley customers the JuiceBox Energy storage system.
Simmitri Inc. is a Silicon Valley Corporation that has, for decades, helped its residential and commercial clientele harness Solar Energy Technology in all its forms today, and is positioned to do so, well into the future.
"We're extremely interested in cutting-edge technologies that positively impact our customers' entire solar and energy management system," stated Tom Dinette, CEO of Simmitri Inc. "JuiceBox Energy's storage system enables our customers to shift toward self-supply and away from dependence on the grid, while at the same time empowering them to actively manage their usage profile."
The JuiceBox Energy storage system is an intelligent, 8.6kWh lithium-ion battery system designed for safe, reliable, long lasting power management. It is designed, engineered, and manufactured by JuiceBox Energy based on their years of automotive lithium ion control systems engineering.
"When looking for partners to install our JuiceBox Energy storage system, we gravitate toward companies like Simmitri that have a customer-centric philosophy," said Neil Maguire, CEO of JuiceBox Energy. "Their emphasis on efficiency, performance, and analysis fits our mission to not just deliver storage, but put the customer in control of their own energy supply."
The JuiceBox Energy storage system also supports residential demand response programs, where available. The system is designed to support grid-tied, grid isolated in the event of grid failure, and off-grid configurations.
Each system delivers more than 10 years or 4,000 cycles of dedicated peak shifting, back-up power, energy efficiency, as well as enables participation in emerging transactive energy exchanges. A cellular gateway linked to a secure cloud-based repository enables remote monitoring, updates, and control. The JuiceBox Energy storage system is housed in an indoor/outdoor UL-rated enclosure.
Silicon Valley customers interested in the JuiceBox Energy storage system should contact Simmitri Inc. Solar installers interested in JuiceBox Energy representation and installation certification should contact JuiceBox Energy.
# # #
About JuiceBox Energy, Inc.
Founded in 2013, JuiceBox Energy is committed to providing safe, reliable, intelligent, and connected solar energy storage for renewable energy. JuiceBox Energy Storage solutions are designed to support consumer self-consumption and enable a resilient, renewable energy grid in order to power a cleaner, sustainable planet. For more information, visit http://www.juiceboxsolar.com and follow us on Twitter: @juiceboxsolar.
About Simmitri
Simmitri is a customer centric Silicon Valley company with a "reduce before you produce" approach to energy management that is unique to the entire industry. Since 1995, Simmitri has demonstrated to thousands of satisfied customers, expertise in designing and installing roof & solar systems. From high level corporate oversight, to its experienced team of roof system technicians, energy advisers, operations/install personnel, project management professionals, sales consultants, and energy efficiency building performance analysts, Simmitri is passionate about engaging customers in doing solar the way it should be done. For more information, visit http://www.simmitri.com.