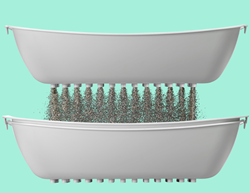 With a Luuup Litter Box in the house everyone, including your cat, will enjoy a healthier and cleaner home with the perpetually clean litter thanks to the 3 sifting tray system
Toronto, ON (PRWEB) February 18, 2016
The Luuup Litter Box has become the must have item for cat lovers (and cat litter haters), raising over $400,000 CDN ($280,000 USD), more than eight-times its goal with a month remaining in its Kickstarter campaign. Luuup's more than 5,200 backers, is the most ever for a physical pet product on Kickstarter.
"We're grateful and very excited about the overwhelming support we have received from cat owners," said Luuup co-founder Nick Petty. "The popularity of our campaign serves as a strong validation and shows that we're solving a ubiquitous cat owner problem by providing a product that cat owners desperately need."
Luuup eliminates scooping with its ingenious 3 sifting tray litter sifting system. The three u's in "Luuup" represent the u shape of the three identical trays. Individually, each slotted tray acts as a sift, but when two trays are stacked together, the slots overlap to form a solid tray. Add the third tray and a perpetual litter-sifting system is created.
The Luuup Litter Box returns to market 20 years after becoming a huge hit as an As Seen on TV product, selling 2-million units, hosted by renowned TV personality and broadcasting legend Dini Petty.
Dini has teamed up with her son Nick to bring back the best litter box ever made. It's a 2.0 evolution of the product for a new generation of cat lovers who are tired of dealing with the tyranny of the litter box.
"Every cat owner hates cleaning the litter box, now they can clean it in seconds and never have to scoop again" said cat lover and Luuup co-founder Dini Petty. "With a Luuup Litter Box in the house everyone, including your cat, will enjoy a healthier and cleaner home with the perpetually clean litter thanks to the 3 sifting tray system."
There has never been a fresher, cleaner or easier way to deal with a cat litter box. Thanks to the Luuup Litter Box, it's no longer a dreaded task, it's now as simple as 1-2-3. The gentle sifting action prevents odors by minimizing clump breakage. Luuup is significantly more hygienic, saving litter, time and money.
The Luuup Litter Box is available for pre-order until March 14, 2016 on Kickstarter. For more information and to pre-order The Luuup Litter Box visit: https://www.kickstarter.com/projects/luuup/luuup-litter-box-the-best-cat-litter-box-ever-made
About The Luuup Litter Box
What's old is new again. After becoming a must have item for cat lovers in the 1990's, selling more than 2 million units, unfortunately like many TV infomercial products in the 90's, it disappeared. Long-time television personality Dini Petty, now working with her son Nick, have teamed up to bring back the best cat litter box ever made. It's been redesigned using the insights of consumer feedback from the original version. It's allowed them to create a new and even better litter box. The Luuup Litter Box is a durable product of the highest quality, that looks as good as it is functional, while still being affordable. This will be the last litter box you'll ever have to buy. The Luuup Litter Box. The Litter Box reinvented.