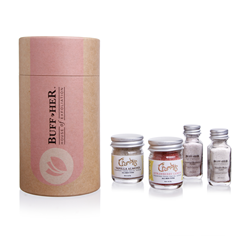 Want Super Smooth Skin..FEED IT!!
Atlanta, GA (PRWEB) February 23, 2016
Buff Her House of Exfoliation invites those who want super smooth and healthy skin to "feed it" with the natural facial scrubs available at the company's online store. This month, the expert estheticians announce the launch of the Buff Her Create Your Own Mini Kit. The new product is a type of sample kit for those searching for the perfect exfoliant for their skin type. Customers are able to try the company's specialty facial crumbles that foam, cleanse, and exfoliate the skin. Customers can discover which buff is right for him or her on the company's website at http://buffher.com/.
"The natural and organic exfoliants used in our products nourish the skin and work to make it become healthy and feel very smooth," said Regina Muhammad, co-founder of Buff Her House of Exfoliation. "We are excited to introduce the mini kit, which will give both current and new customers the opportunity to try out different flavors."
Buff Her House of Exfoliation was founded by estheticians and make-up enthusiasts for the purpose of creating natural scrubs made from fruits and vegetables. Through the founders' own experiences and research of natural ingredients, high quality skin care products have been developed. The result is a line of scrubs and exfoliants that help prevent breakouts, improve texture, soften skin, and more. The company website includes testimonials from numerous customers.
The new Create Your Own Mini Kit comes with four mini bottles, which contain enough product for 50 applications. Customers may choose from ten flavors, including Apple Granola, Banana Bread Pudding, Oatmeal Blueberry Cookie, Strawberry Parfait, Strawberry Lemon Crumbles, Sweet Potato Pie, Vanilla Bean Latte, Rice and Beans, Milk and Honey, and Vanilla Almond Crumbles. To build a mini kit, visit http://buffher.com/collections/buff-her/products/create-your-own-mini-kit.
About Buff Her House of Exfoliation Founded in 2012 by three experienced estheticians, Buff Her House of Exfoliation makes handcrafted exfoliating skincare products from organically grown vegetables and fruits. Just as the company strives to "feed" its customers' skin with healthy nutrients, it also strives to support organizations that feed the hungry. For every 1.5 ounce bottle of natural facial scrub purchased, Buff Her donates $1.00 to the Children's Hunger Fund. For more information about the company and its founders, visit http://buffher.com/pages/about-us.