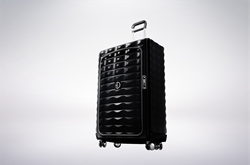 We'd like to thank every one of our backers and we're excited that they will be the first to own Néit luggage when we ship after the campaign," added Cook. "With 22 days left in the campaign, we expect the momentum to continue to grow
(PRWEB) February 18, 2016
Néit products has surpassed its crowdfunding goal on Kickstarter to bring the world's first smart, collapsible, hangable hard-sided luggage to market.
With over 200 backers, Néit has trumped its goal and is quickly closing in on $100,000 USD on Kickstarter with three weeks remaining in the campaign.
"We're very excited that we're fully funded and thankful for the support we have received from travelers around the world," said Christian Cook, founder of Néit. "The popularity of our luggage on Kickstarter serves as a strong validation and shows there's high demand for smart, collapsible and hangable luggage, especially for those who live in small spaces."
Néit's collapsible design allows the frame to fold down flat when the case is empty – ideal for storing in a small hotel room, condo, apartment, or anywhere that space is limited.
"We'd like to thank every one of our backers and we're excited that they will be the first to own Néit luggage when we ship after the campaign," added Cook. "With 21 days left in the campaign, we expect the momentum to continue to grow."
Néit is available in two sizes – Néit Hold and Néit Cabin and is made from a combination of lightweight, yet durable, Polycarbonate and aircraft grade aluminium which is used for the robust frame that's secured in an upright case by an internal zipper system.
Key Features:

o Collapses down to less than 30% of its upright volume.

Textured Hard Case design
o Modern, stylish textured hard case design.

o Carabiner in handle allows for hung-storage of collapsed case in closet/wardrobe and to attach duty free/shopping bags to the handle while on the move.

o Wheels fold in for better storage.

o Track your case – know where it is if it doesn't turn up at the luggage carousel

Travel Lifestyle App/Concierge App
o Track your case, check on your flight status, store your boarding pass, map your route from the airport to your hotel, find tips on cool places to visit near your hotel, book accommodations and flights. The app is your companion on the road when using your Néit Luggage.
For more information on Néit and to pre-order, visit Néit's Kickstarter campaign.
About Néit
Néit Products was founded in 2014 in London, UK with the aim of revolutionizing the way we store and carry our things through the design and manufacture of innovative, space-optimized lifestyle products. We have previously launched CardCase for iPhone in August 2014; a super-slim protective card case for iPhone 5 & 6 models. Our most recent product is the World's first Smart, Collapsible Hard Case luggage launched on Kickstarter in January 2016.