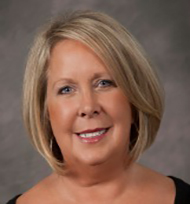 CHICAGO (PRWEB) February 19, 2016
Jenny LaPointe, an established real estate broker with a long record of success, is the newest addition to the outstanding sales team at RE/MAX Suburban, 441 Taft Ave., Glen Ellyn, Ill.
"It's a pleasure to welcome Jenny to the RE/MAX Suburban organization," said Chad Gilbert, president of RE/MAX Suburban, the largest RE/MAX brokerage in Illinois, with eight offices in the metropolitan Chicago area. "With more than 20 years of real estate experience serving the Glen Ellyn community, she is a perfect fit."
LaPointe comes to RE/MAX after an 18-year affiliation with Berkshire Hathaway Home Services Koenig/Rubloff Realty Group in its Glen Ellyn office.
"I love this community and feel like I'm now part of its very best real estate office, surrounded by an outstanding group of true professionals," said LaPointe, who grew up in Glen Ellyn and has raised her family there. After graduating from Glenbard West High School, she attended the University of Kansas, where she earned a business degree.
Along with her deep knowledge of the community, LaPointe brings strong marketing skills to her work as a broker.
"When it comes to selling property, I always feel that a picture is worth 1,000 words, especially now that so many buyers rely upon online searches," she said. "For that reason, I put extra effort into maximizing the visual impact of every home I list."
RE/MAX agents consistently rank among the most productive in the industry. In 2015, RE/MAX Northern Illinois agents averaged 18 transaction sides. RE/MAX has been the leader in the northern Illinois real estate market since 1989 and is continually growing. The RE/MAX Northern Illinois network, with headquarters in Elgin, Ill., consists of more than 2,250 sales associates and 105 independently owned and operated RE/MAX offices that provide a full range of residential and commercial brokerage services. Its mobile real estate app, available for download at http://www.illinoisproperty.com, provides comprehensive information about residential and commercial property for sale in the region. The northern Illinois network is part of RE/MAX, a global real estate organization with 100,000+ sales associates in 90+ nations.
####
EDITOR'S NOTE: RE/MAX® is a registered trademark. Please spell in all caps. Thank you. This release is posted at blog.illinoisproperty.com.