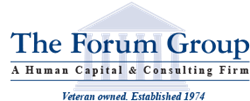 We have a fantastic past, but we will not live in the past, you have to grow from the past. And that's what we've been doing.
New York, NY (PRWEB) February 18, 2016
The Forum Group officially passed the 100 employee mark in early February thanks to its aggressive hiring strategy. Frank Fusaro, President and CEO of The Forum Group, is well aware of how crucial these new hires are to the growth of the firm.
"In this or any business, there's no standing still; you're either going to grow, or you're going to contract. We have a fantastic past, but we will not live in the past, you have to grow from the past. And that's what we've been doing," said Fusaro.
The 42-year-old company currently employs over thirty individuals who have been with the company for 20 years or more, and has had another ten retire after a successful career with the firm, an almost unheard of statistic in the staffing industry.
Now, The Forum Group isn't just "replacing" departed employees, but aggressively hiring to continue to grow the business. Over the past three years, The Forum Group has engaged approximately 40 extremely talented individuals and is committed to ambitiously growing their team well beyond the 100 employee milestone.
Fusaro has never been one to rest on his laurels. In addition to his work with The Forum Group, Fusaro is the past President and current Chairman of the Board of Columbus Citizens Foundation, a 600-member philanthropic organization. He conceived of and developed the Foundation's "Adopt-a- Scholar Program", which has raised more than $15 million in scholarship funding for children of need. He also serves on the Board of the Cooleys Anemia Foundation and directs an annual fundraising event on their behalf, which has now raised more than $3 million for research and patient services. Additionally, Fusaro directed the Annual Columbus Day Parade on Fifth Avenue for an eight-year period and received the title of Commendatore of the Legions of Merit, presented by the President of Italy, for his leadership in the Italian-American Community.
Fusaro firmly believes that a successful company cannot afford to rest on past successes and he's looking forward to further growth in 2016.
About The Forum Group
The Forum Group is a New York, New York-based leader in the staffing, vendor management and consulting fields, providing clients with the finest in human capital, process management, and financial consulting services. For nearly 40 years, the Forum Group has developed the areas of staffing expertise most sought by clients, large and small. Accordingly, the company services clients ranging from entrepreneurial startups to Fortune 100 global giants. For more information on the Forum Group, please call 212-687-4050 or visit Forumgrp.com to learn more.