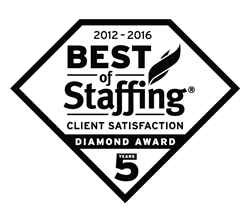 Rockville, MD (PRWEB) February 19, 2016
The SPARKS Group (Formerly SPARKS), a leading staffing and recruiting firm that specializes in placing talent in Administrative, Human Resources, Accounting/Finance, Information Technology, and Creative positions, announced today they have earned Inavero's Best of Staffing® Client Diamond Award after winning the Best of Staffing Client Award at least five years in a row for providing superior service to their clients. Presented in partnership with CareerBuilder, Inavero's Best of Staffing Client Diamond winners have proven to be industry leaders in service quality based completely on the ratings given to them by their clients. On average, clients of winning agencies are nearly three times more likely to be completely satisfied with the services provided compared to those working with non-winning agencies.
Focused on helping Washington, DC Area companies find the right people for their job openings, The SPARKS Group received satisfaction scores of 9 or 10 out of 10 from 72.7% percent of their clients, significantly higher than the industry's average of 27 percent. With fewer than 2% of all staffing agencies in U.S. and Canada earning the Best of Staffing Award, just 22% of the 2016 Best of Staffing winners earned the Diamond Award distinction. The winners of this award truly stand out for exceeding client expectations.
"We are extremely pleased that once again The SPARKS Group has been recognized for outstanding reviews from both client companies and the talent we send them", said CEO and Owner Steve Sparks. "What makes us most proud are that the scores we received exceed the high standards by a wide margin! As we continue to raise the bar it makes it that much more difficult to exceed our prior accomplishments, but that is what we are striving to do. Excelling in client experience is not complicated, it is just very hard to do every single day unless that is your focus. We have made it our focus and thank all of our clients and employees for their positive comments and ratings."
"Leaders of growing companies are more committed than ever to staying flexible in this stable yet volatile market, making staffing firms the most viable employment partnership," said Inavero's CEO Eric Gregg. "Finding the best staffing partner with a proven commitment to service excellence can be really tough. BestofStaffing.com is the place to find the winning agencies that place talent with the skills you need in your city or state. We are very proud of the 2016 award winners."
About The SPARKS Group
Headquartered in the Washington, DC Metro Area, with a client support network throughout the Mid-Atlantic region, The SPARKS Group (formerly SPARKS) is a leading staffing and recruiting services provider that connects job seekers to the area's top employers for temporary, contract, contract-to-hire, and direct-hire opportunities. Additionally, The SPARKS Group offers a number of customizable workforce and talent management solutions for large users of staffing. Core areas of staffing expertise include: Accounting and Finance, Administrative and Office Support, Contracts and Acquisitions, Customer Service and Call Center, Human Resources and Talent Acquisition, Information Technology, Paralegal/Legal Support, and Creative and Marketing.
About Inavero
Inavero administers more staffing agency client and talent satisfaction surveys than any other firm in the world. Inavero's team reports on over 1.2 million satisfaction surveys from staffing agency clients and talent each year, and the company serves as the American Staffing Association's exclusive service quality partner.
About Inavero's Best of Staffing
Inavero's Best of Staffing Award is the only award in the U.S. and Canada that recognizes staffing agencies that have proven superior service quality based completely on the ratings given to them by their clients and job candidates. Award winners are showcased by city and area of expertise on BestofStaffing.com – an online resource for hiring professionals and job seekers to find the best staffing agencies to call when they are in need.