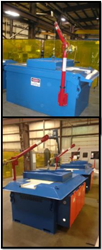 Repeat business based on past performance is a testament to the quality and durability of Lindberg/MPH equipment. We work closely with our customers to provide the best possible solution to their application needs.
Riverside, MI (PRWEB) February 19, 2016
Lindberg/MPH announced the shipment of an electric immersion aluminum holding furnace to a large automotive die caster. The equipment provided includes three electric immersion aluminum holding furnaces used to keep aluminum at die casting temperature.
These aluminum holding furnaces utilize Lindberg/MPH patented board lining and high efficiency immersion tubes/heaters. A manually operated winch crane operates the center cover for cleaning.
Unique features of these aluminum holding furnaces includes:

Efficient electric immersion heating.
Excellent temperature control and fast recovery.
Lindberg/MPH patented board lining.
Longer lining life.
Manually operated winch crane cover lift
About Lindberg/MPH
In addition to melting and holding furnaces for non-ferrous alloys, Lindberg/MPH is a leading manufacturer of standard and custom industrial heat treat furnaces, including pit, box, IQ, and belt type for the ferrous and non-ferrous markets. Lindberg/MPH customers cover a wide range of industries including aerospace/military, automotive, commercial heat treating, energy/oil, electronics and the forging markets. Founded in 1917, the company has more than 75,000 industrial furnace installations worldwide and their equipment is backed by a full range of customer support services and the most extensive replacement parts inventory in the industry. Lindberg/MPH is a proven leader in the thermal processing industry, with a long track record of proven policies and management practices.
Lindberg/MPH is owned by Thermal Product Solutions ("TPS"), a leading American manufacturer of custom industrial ovens used for heat treating, finishing, drying, curing, manufacturing automation and process control. TPS is a global leader in thermal processing products and test solutions with brands including Baker Furnace, BlueM, Gruenberg, Tenney, Lindberg, MPH, and Wisconsin Oven. For more information on equipment solutions from TPS visit the website at http://www.thermalproductsolutions.com.