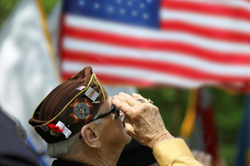 We recommend these six cities to our relocating military retiree clients because of their robust support services for military retirees, plentiful jobs in industries seeking military skills, and other important lifestyle attributes.
Libertyville, IL (PRWEB) February 18, 2016
Marian Schaffer, Principal and Founder of Southeast Discovery, a real estate consulting firm specializing in guiding Baby Boomers with their real estate needs in the niche markets of retirement relocation and second homes in the Southeast region, recently cited six cities in the southeastern U.S. that offer strong support services, solid job opportunities, and other appealing lifestyle attributes for military retirees.
"We've been helping baby boomers, including military retirees, relocate to the Southeast for more than 10 years. Military retirees are usually younger than typical retirees at around 47 years of age on average, which factors into their decision to move somewhere with a robust economy and a strong job market, as most plan to continue working," said Schaffer. "They also want access to military support services where possible, and dynamic cultural and recreation amenities."
"Based on our research and our previous work with our military retiree clients," Schaffer continued, "there are six Southeastern cities we recommend that are known to have robust support services for military retirees, including access to base amenities, a VA hospital, and jobs and opportunities in industries seeking military skills, in addition to other lifestyle attributes our military retiree clients are looking for."
According to Schaffer, the following six Southeastern cities offer key attributes military retirees are seeking in a retirement locale:
Fayetteville, NC: Home to Fort Bragg, Fayetteville is one of the largest military complexes in the world and is considered America's First Military Sanctuary Community. "With Pope Air Force Base nearby, and Camp Lejeune approximately 100 miles away, veterans have plentiful options for commissary and access to services," Schaffer said. "The Fayetteville VA Medical Center offers healthcare services. And Fayetteville loves those who have served and are serving their country, making this a very welcoming environment for military retirees." Many businesses in the city provide discounts to current and former members of the military, and the city enjoys easy access to nearby beaches and abundant outdoor recreational opportunities.
Asheville, NC: "We've long recommended Asheville to all of our clients because of its beauty, livability, strong economy and a multitude of other compelling attributes," said Schaffer. "For military retirees in particular, the strong presence of veteran-owned businesses in Asheville offers a positive environment for retiring veterans who want to become entrepreneurs. Asheville is also affordable, and veteran wages have been on the upswing here for the last 5 years." The insurance and financial services company USAA, which serves U.S. military personnel and their dependents, called Asheville one of the best places in the nation for Veterans to pursue entrepreneurship, education or a new career.
Raleigh, NC: Raleigh boasts a wealth of amenities, including plentiful educational and cultural offerings, excellent medical care, and abundant recreational opportunities. Its advantages for military retirees include affordable cost of living, quality base amenities, nearby VA healthcare, and several industries that utilize military skills, including engineering, aviation, and protective and emergency services, Schaffer noted.
New Bern, NC: New Bern is located about an hour and a half's drive from two other military-friendly North Carolina cities, lying 90 miles southeast of Raleigh and 90 miles northeast of Wilmington. The town of Havelock, home to Marine Corps Air Station (MCAS) Cherry Point, one of the country's largest Marine Corps air stations, is nearby. MCAS Cherry Point provides a comprehensive suite of services designed to enhance the quality of life for marines, sailors and their families. And New Bern is close to the beaches of the Atlantic Ocean, making it a great place for outdoor recreation.
Beaufort, SC: Beaufort is home to three military installations and offers plenty of support services for retired military. "For example, military retirees and their families have the opportunity to shop at the Parris Island Commissary, where groceries, clothing, jewelry, household goods, furniture, and more, can be had for up to 30% off, and you don't pay taxes," Schaffer said. Thousands of service members and base employees own or rent homes creating a year round robust economy. "Next to tourism, the military is the major industry of Beaufort and residents enjoy a warm and comfortable relationship with their military neighbors and visitors," Schaffer noted.
Sarasota, FL: Voted as "America's Best Small City" by CNN/Money magazine and "Best Beach" by Dr. Beach in 2011, Sarasota and surrounding areas offer a high quality of life in a pristine natural setting. "Sarasota has seen an 8.8% population growth in the last five years, more than double the national average, and the area exceeds the national average for number of veteran-owned businesses per capita," Schaffer noted. Florida also has a favorable tax climate, Schaffer pointed out. Sarasota also makes the list of cities the organization USAA called one of the best places in the nation for Veterans to pursue entrepreneurship, education or a new career.
According to Schaffer, other promising locales for military retirees include Virginia Beach, VA; Alexandria, VA; Bethesda, MD; and West Palm Beach, Fort Lauderdale, Ft. Walton Beach, Florida.
"Being married to a retired Naval officer myself, I have experienced first-hand the benefits of living near military facilities that offer a shopping commissary along with medical facilities available to military retirees and military families," Schaffer noted. "I understand why many who are retired see the value and attraction of choosing an area when relocating that offers military facilities nearby they can conveniently access and use."
About Southeast Discovery
Since 2004, Southeast Discovery has been a trusted resource for candid information and insight on communities, developments, and general real estate in the Southeast. Through its highly-ranked web portal, newsletter and blog and its one-on-one work with clients, Southeast Discovery helps buyers actively looking for a retirement or second home in the Southeast navigate the process of identifying the right area and community for their needs. To learn more, visit http://www.southeastdiscovery.com/.