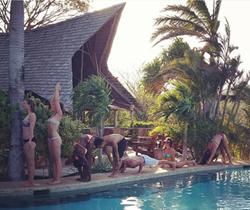 San Francisco, California (PRWEB) March 01, 2016
Drishti Yoga Teacher Training announces a return to Costa Rica for the 3rd Year. The Yoga Training Retreat will take place at the updated Eco Lodge, El Sabanero, with new features for Yoga and will also highlight a Guest Teacher.
"We are thrilled to be hosting our 2016 Costa Rica Yoga Teacher Training Retreat at El Sabanero for the 3rd year. We are especially looking forward to the updates they have made to the outdoor Yoga studio allowing us to practice surrounded by nature." says Drishti co-founder.Sarah Walsh.
In addition to the updates at the resort, Drishti's Yoga Training in Costa Rica will feature Guest Teacher Dana Slamp. "At Drishti we try to diversify our staff and offer different personalities to expose our students to different teaching styles." says co-founder Carri Uranga. "This year we are excited for the popular New York City Teacher and my friend Dana Slamp to join the team!"
With these two improvements the April 2016 Yoga Teacher Training in Costa Rica will prove to be a unique and well rounded experience. Drishti Yoga Teacher Training is making their mark in the area by returning yearly and offering top quality Yoga trainings.
About Drishti Yoga Teacher Training
Discover the impact of intimate personal attention combined with focused training in exotic locations with Drishti Yoga Teacher Training. Combine your passion for Yoga and your love of travel to create a transformative experience on and off the mat.
Upcoming trainings will be held in Costa Rica April 1st- 25th, Portugal July 4th-17th, Greece July 17th- August 10th and Napa Valley, California August 26th- September 2nd. For detailed information on these trainings and to find how else Drishti is making a ripple effect in the Global Yoga Community visit us at drishtiyogateachertraining.com