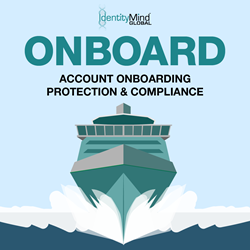 Innovators are technology savvy, and rightfully focused on delivering the user experience today's environment requires. However, many financial technology companies simply are not prepared for the security and risk challenges imposed by online services
Palo Alto, CA. (PRWEB) February 18, 2016
IdentityMind Global, the pioneer in Digital Identities for risk management and digital commerce, announced today their ONBOARD initiative, providing worldwide FinTech companies with specialized programs for addressing both the compliance challenges and risk associated with verifying and validating clients in online financial services.
The initiative combines IdentityMind's integrated identity verification and fraud tools with an operational framework for applying customer onboarding best practices, providing FinTech companies with a streamlined program for both managing compliance requirements and preventing fraudulent accounts. ONBOARD detects if valid consumers and business have become fraudulent or compromised due to account fraud, and provides the anti-money laundering capabilities necessary to satisfy auditing and reporting requirements.
"FinTech is one of the most exciting industries due to the changing landscape and rapid innovation taking place," said Garrett Gafke, IdentityMind Global President and CEO. "Innovators are technology savvy, and rightfully focused on delivering the user experience today's environment requires. However, many financial technology companies simply are not prepared for the security and risk challenges imposed by online services. Experienced risk managers and compliance officers apply customer onboarding best practices from the offline world, but often these practices aren't as effective online. The ONBOARD program is designed to address these challenges."
The ONBOARD initiative combines:

Identity Verification
Account Fraud Prevention
Identity Document Verification
Case Management
Transaction Monitoring
Sanctions Screening
Crime Analysis Investigative Interface
Location Analysis
Document Upload.
ONBOARD is available worldwide, and offers three different packages to accommodate varying levels of requirements- from simple Know Your Customer (KYC), to Enhanced Due Diligence (EDD). The program starts at $0.56 per ONBOARD for U.S. consumers, and just under $1 for businesses in the United States.
For more information, visit http://info.identitymindglobal.com/onboard or contact us at sales(at)identitymind(dot)com.
About IdentityMind Global
IdentityMind Global™ pioneered digital identities for ecommerce. Their on-demand platform provides identity-based payments, risk management, fraud prevention and anti-money laundering services for Acquiring Banks, Payment Processors, Gateways, Payment Service Providers (PSP/ISO/MSP,IPSP), Digital Currency Exchanges, Financial Institutions (Banks, Money Service Businesses (MSBs), Money Transmitters, Online Lenders) and e-Commerce Merchants.
The IdentityMind™ platform provides real-time risk management using patent-pending Electronic DNA (eDNA™) technology to track the different entities (consumers, merchants, cardholders, payment wallets, alternative payment methods, etc.) involved in every transaction. These entities are tracked over time to build payment reputations, which are used to evaluate fraud, merchant account applications, consumer account origination, identity verification services, potential money laundering, and more. These reputations are shared during analysis so everyone can benefit from the "network effect" while protecting the privacy of all entities involved. For more information, visit http://www.identitymindglobal.com.