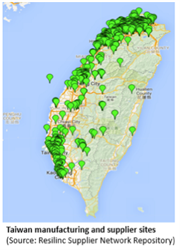 Milpitas, Calif. (PRWEB) February 18, 2016
Around 4 a.m. on February 6th, a 6.4 magnitude earthquake rattled southern Taiwan at the start of Lunar New Year, the island's largest nationwide holiday. With a current death toll of 114, it is the deadliest earthquake to hit the island since the "921 Earthquake" of 1999. Taiwan is the world's leading producer of semiconductors and integrated circuits (IC). As such, high tech companies are left to ponder how this earthquake could affect the global electronics supply chain. While initial reports of the quake emphasized minimal damage and interruption to the major chip foundries concentrated in southern Taiwan, there are less apparent global supply chain impacts that will likely be felt in the near future.
This analysis is organized into five parts:

Summary of the earthquake event
Review of the global importance of the Taiwanese IC industry
Examination of the confirmed impacts to chip manufacturers on the island
Discussion of interruption risk factors associated with modern chip fabrication plants
Recommendations on how to mitigate impact to supply chains for future similar events
The report discusses the specific and confirmed impact to major semi-conductor, electronics components and assembly service providers including UMC, Innolux, and ChipMOS, and warns that there are many other smaller manufacturing operations in the affected area that have not released a public impact statement.
"Many of these companies located in the Southern Taiwan Science Park in both Tainan and Kaohsiung are dwarfed by these huge chip manufacturers," said Neil Shenoi, EventWatch® Program Analyst at Resilinc. "That does not mean they are any less important to IC supply continuity from Taiwan. Companies should monitor Taiwan/Tainan based companies in the coming weeks because it is not always the large players that are at risk, but smaller sub-tier partners who might supply a Tier-1."
The analysis concludes with several specific recommendations for addressing the lingering potential risks associated with the Taiwan quake as well as steps that should be taken now to avoid impact from future similar events. For example, high tech OEMS and brands should assume their competitors, as well as other companies from other industries, are vying for available inventory, capacity and freight bandwidth. Companies should also conduct mapping exercises to determine which sites, products, parts, and materials are derived from southern Taiwan and which may be impacted by the quake and then monitor and collaborate with suppliers to mitigate evolving risks.
Finally, Resilinc implores brands to take steps to proactively mitigate future vulnerabilities that will be exposed by similar incidents by investing in supply chain risk management (SCRM) and resiliency strategies and program initiatives. This includes people processes and technologies for (1) proactive risk identification, quantification and prioritization and (2) rapid crisis detection and response via 24x7 global event monitoring and analysis services.
"While this earthquake paled in comparison to the 921 Earthquake of 1999, businesses should not underestimate its looming supply chain impact," said Shenoi. "Though bigger companies may have a higher tolerance for such unplanned disasters and supply chain disruptions, younger and smaller downstream companies are more vulnerable and are urged to reap the benefits of investing in SCRM and resiliency strategies and programs that ensure proactive risk mitigation, crises preparation, and rapid response. It's only a matter of time to tell how this earthquake will affect the global supply chain and for how long its ripple effect will be felt downstream."
About Resilinc
Resilinc is the leading cloud provider of supply chain resilience and risk management intelligence and analytics. Industry leaders like Amgen, GM and EMC rely on Resilinc to mitigate risks end-to-end, while achieving long-term competitive advantage, and building brand and shareholder value. The Resilinc SCRM solution platform and services deliver the fastest time-to-value and the lowest resource Impact. It accomplishes this by providing the world's largest repository of supplier and part intelligence leveraging the power of our "LinkedIn" supplier community; the most robust set of dashboard visualization and patent-pending analytic functionality for pro-active planning and risk quantification; and the only solution that personalizes your impact analysis by automatically connecting incidents with your supply chain map so you don't have to.