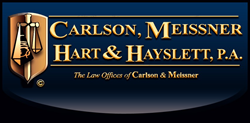 Clearwater, FL (PRWEB) February 20, 2016
Beginning in 1971, the prominent Tampa bay firm of Carlson, Meissner, Hart & Hayslett P.A. began living their motto, "Fighting for the injured, defending the accused". Attorneys at the firm agree that the personal relationships they build with clients and their reputation as leaders in the community is the driving force behind a client's motivation to trust the Carlson Meissner team.
The firm's long history of success is founded upon four key philosophies - based on the word CARE. The "C" in this acronym stands for community commitment. The next letter represents accessibility, a promise of a timely response to clients. "R" stands for responsible, reasonable and reliable service while the final letter, "E", stands for extensive experience and the team approach.
Since 1971, the firm has grown to five locations across the Tampa Bay area to better meet the community's needs. Locations include Tampa, Clearwater, Spring Hill, Bradenton, and New Port Richey. A team of 16 highly skilled attorneys comprises the Carlson Meissner legal team, giving clients access to more than a century of legal experience through the firm's team approach. The attorneys have a proven record of success in several areas of practice, including:

DUI/DWI
Personal Injury
Criminal Defense
Social Security Disability
Workers' Compensation
Family Law
Immigration
The firm's website, CarlsonMeissner.com, includes client testimonials, as well as information on receiving a free consultation. Devin, a former client from Brooksville, wrote, "I strongly urge anyone else to contact this law office with any help you may need." The website also includes links to online resources, attorney descriptions, and an informational video library.
The founders of the law offices of Carlson, Meissner, Hart & Hayslett, P.A. celebrate being named one of Florida's Top Ranked Law Firms based on AV Preeminent Martindale-Hubbell Lawyers Ratings, pursuant to the Wall Street Journal. Attorney Edward D. Carlson, co-founder of the firm, remarks, "Our long-lasting success was not without hard work. Attorneys with our firm go the extra mile for the clients we serve and it is evident as each case unfolds." The firm's other co-founder, Paul A. Meissner, adds, "Our values have guided our practice and our skilled group of attorneys have allowed our firm to be unique in the creation of innovative legal strategies."
For more information, visit the website or call (877) 728-9653 to schedule a free consultation.
About Carlson, Meissner, Hart & Hayslett , P.A.
The law firm of Carlson, Meissner, Hart & Hayslett P.A. was founded in 1971 by attorneys Ed Carlson and Paul Meissner. For more than four decades, they have been committed to protecting the injured and defending the accused. Their attorneys have established a solid reputation of case success throughout Florida, providing strong legal representation, easy accessibility and a high level of dependability. A client-centered approach ensures that clients know what is happening as their case progresses, and understand their options every step of the way. With a focus on personal injury, they help victims of auto accidents, slip and falls and wrongful death accidents. The firm is well-known for their innovative criminal defense and DUI work, defending both local and high-profile clients. Attorney and Partner Kevin Hayslett is widely recognized as The Attorney to the Stars, providing strong legal representation for notable celebrities and dignitaries throughout Florida. The firm also handles social security disability, workers compensation, divorce, family law and immigration cases. They offer free initial consultations and have five convenient Tampa Bay Area locations. Attorneys are available 24/7 for emergencies. Count on the legal team of Carlson, Meissner, Hart & Hayslett, P.A. to be there, fighting for you, protecting your rights. For more information or to schedule a consultation, call 877-728-9653 or visit their website at http://www.CarlsonMeissner.com