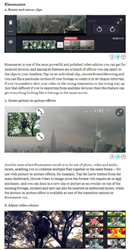 "One of the most powerful and polished video editors you can get for Android devices…" - The Guardian
Gangnam-gu, Seoul (PRWEB UK) 23 February 2016
As of 15th of this month, KineMaster — Professional Video Editor by NexStreaming Corp. — passed seven million app downloads, according to NexStreaming Corp. (CEO: Im, Il-Taek), a multimedia software company.
KineMaster is an Android app which features a wide variety of editing functions enabling easy yet precise video editing, freeing its users from the trouble of having to upload video onto a PC for post production. This leads many users, from amateurs to video editing professionals, to download the app.
The Guardian — a British national daily newspaper — published an article titled '21 tips, tricks and shortcuts for making movies on your mobile' on February 12th, introducing twenty-one editing features from ten different apps, one of them being KineMaster. Aside from built-in phone apps, KineMaster was featured the most prominently, introducing its 'Rotate / Mirroring' feature, various layer features, and 'Color Filter' feature. At the same time, KineMaster was featured as Google Play UK's 'Free App of the Week', showcasing its outstanding quality.
The KineMaster team continues to prepare further updates; more enhanced professional editing features such as video bit-rate control, various audio effects, and custom fonts for text layers. Chroma Key, in particular, a special feature used to replace a solid color with a custom background in a video, was seen previously only in desktop video applications such as Sony Vegas Pro or Adobe Premiere Pro CC. With this feature coming to KineMaster, it is expected to attract many more YouTube Creators.
"Our ultimate goal with KineMaster is to build a serious professional-quality mobile editing environment, allowing journalists and other video editing professionals to work directly on mobile, without having to move to a PC." says Matthew A. Feinberg, head manager of technical development and services for KineMaster.
KineMaster can be installed via the Google Play Store and share diverse opinions and ideas inside KineMaster User Community on Google+.