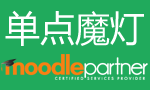 We are very excited to be China's first Moodle Partner
Perth, Western Australia (PRWEB) February 22, 2016
Moodle, the world's open source learning platform, today announces Dandian Software as its first Moodle Partner in China. As a member of the Moodle Partner network, Dandian Software will provide certified Moodle services and support, use the Moodle trademarks and contribute royalties to the ongoing development of Moodle.
Located in Zhengzhou in central China, Dandian Software provides e-learning, management and mobile software solutions and support to universities, academies, schools and training institutions in China, Hong Kong and Taiwan.
On joining the Moodle Partner network, Jiyun Wang, Principal of Dandian Software, commented "We are very excited to be able to cooperate with Moodle HQ as China's first Moodle Partner. As a Moodle Partner we are better positioned to offer support and services to Moodle users in the region, and we expect the status will help us to increase our customer database."
"We're very excited to begin this new partnership with Jiyun and the team at Dandian Software," said Martin Dougiamas, Founder and CEO of Moodle. "We're looking forward to working closely with them to best meet the local educational needs of Moodle users in China."
The Moodle Partner network continues to expand, now with 73 certified partnerships based in more than 46 countries worldwide.
# # #
About Moodle
First released in 2001 by Martin Dougiamas, Moodle has since developed into a full-featured, flexible open source learning platform currently used in more than 230 countries with more than 70 million users worldwide. The focus of Moodle is to provide educators with the best tools to manage and promote learning. Supported by a global network of certified Moodle Partners, Moodle HQ continues to work with developers and educators worldwide to support a fast growing community of Moodle users. For more information, visit http://moodle.org
About Dandian Software
Established in 2007, Dandian Software offer technical support services including third-party system integration, server performance optimisation, curriculum construction, training certification and plug-in development. Dandian Software also provide optimised mobile solutions for universities, academies, schools, K12 and training institutions. For more information, visit http://dandian.net/moodle
ENDS
Contact
Collette McCann
Moodle Marketing Officer
press(at)moodle(dot)com
Sources
Moodle.com
Dandian.net/moodle