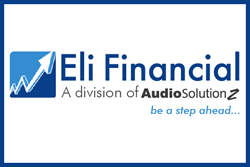 With Regulation C, it's better to be sooner rather than later; especially when it comes to being compliant with all the necessary changes.
Durham, NC (PRWEB) February 18, 2016
Eli Financial provides training solutions in the form of webinars for banking, finance, tax and insurance professionals, helping them not only enhance their knowledge and skills but achieve compliance in this ever changing world of regulations, updates and legislations.
Eli Financial will host a Live Webinar titled "Preparing for Big Changes to Regulation C: The Home Mortgage Disclosure Act's (HMDA) Disclosure Rules" on Thursday, February 25, 2016. The webinar will be presented by Chrys Lemon, who is a partner in McIntyre & Lemon, PLLC, in Washington, D.C. He specializes in financial services law, particularly related to marketing of consumer financial products and services, privacy law, insurance law, and regulation of financial institutions by the Consumer Financial Protection Bureau (CFPB).
The Consumer Financial Protection Bureau (CFPB), on October 15, 2015, released their 797-page Final Rule that expands the scope of mandatory data reporting under the Home Mortgage Disclosure Act (HMDA). The new rule, which will be implemented in phases through 2020, represents the most significant changes to HMDA and Regulation C in over a decade and is designed to provide knowledge on how financial institutions can effectively serve the community's housing needs, by directing financial institutions to provide important data. These requirements can be classified as under:
1. New applicability standards: A new 25-loan limit was put in-place to determine whether a lender is subject to the data collection and reporting requirements.
2. Expansion of types of reportable applications and loans: Data must now be gathered on all "dwelling-secured" or "covered" loans. This would include Closed-end mortgage loans, Open-end lines of credit, Reverse mortgages, and Business-purpose loans and lines of credit secured by a dwelling.
3. Expansion of reportable data: The items of information HMDA lenders must collect and report have more than doubled, with specific – and different- data requirements from both Dodd-Frank and the CFPB.
4. Quarterly reporting for large-volume HMDA lenders: Lenders that reported at least 75,000 reportable transactions in the prior year would be required to submit data within 60 days following each quarter end.
The new rule will also require financial institutions to file new data information with the CFPB. Financial institutions with many reported transactions will be required to file quarterly, rather than annually. If you're a mortgage originator, you are probably aware of the new HMDA reporting requirements.
Eli Financial's presentation on this new ruling will educate attendees on significant changes to Regulation C and expound on the key steps to remain compliant with the new rules. With the compliance date slowly approaching, there is much to be done and this session will take you through critical data that financial institutions must provide to CFPB to be compliant. You will also note down the key dates, review the CFPB resources, reportable data and more. Through this session, you will get an overview of techniques that may assist industry with compliance, and take part in discussions on applicable dates.
Media professionals can get free access to these webinars by sending an email to writetous@elifinancial.com with "Media Inquiry" in the subject line and a brief bio in the mail.
For more information visit: http://www.elifinancial.com/banking/hmda-disclosure-rules
About Eli Financial
Eli Financial, a subsidiary of AudioSolutionz, is one of the leading training destinations for banking, tax, insurance and finance professionals. With a panel of industry experts, Eli Financial provides important updates, regulatory knowledge and compliance information on the latest industry hot topics. To learn more visit: http://www.EliFinancial.com