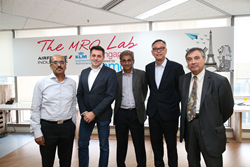 We are happy to have partnered with Singapore EDB in setting up this co-innovation Lab,which will be the platform for developing solutions that can transform operations for the complete eco-system of the aerospace industry - PR Venketrama Raja,VCMD,Ramco
Singapore (PRWEB UK) 18 February 2016
An engineering lab – the first of its kind in Asia – to develop advanced aviation IT solutions such as wearables for ground engineers and drones to inspect aircraft on the tarmac was declared open today in Singapore by Ramco Systems ("Ramco") with Air France Industries KLM Engineering & Maintenance ("AFI KLM E&M") as the first anchor partner.
Supported by the Singapore Economic Development Board ("EDB"), the MRO Lab combines engineering and research talent from Ramco, a global aviation software specialist, with AFI KLM E&M as Ramco's first co-innovator partner for the MRO Lab.
Launched at the Singapore Airshow, the lab will work on next-generation applications and develop intellectual property ("IP") to solve major problems facing the Maintenance, Repair and Overhaul ("MRO") industry.
The formation of the Lab comes amidst rising concerns that the global MRO industry is trailing in innovation and could face major bottlenecks amidst continued growth in international air traffic, as well as expansion of airports.
The Lab is located at Ramco's regional headquarters in Singapore, which has emerged as a major regional aviation hub and an innovation centre for the airline sector, including advanced materials and engine efficiency. The Lab is Ramco's most significant aviation investment in Asia to date.
The Lab will gradually scale up to employ more than 50 global innovators in Singapore, who will work on solutions such as:

"Internet of Things", or embedded sensors for aviation components;
Machine learning equipment which can cut down on manual maintenance and checking;
Analytics for engineering planning and optimisation to reduce aircraft on ground ("AOG");
Robotics for the shopfloor and drones to inspect aircraft on the tarmac; and
Wearable devices including Google Glass™ for on-ground engineers.
The facility will serve as a collaborative platform for airlines and disruptive tech companies, which Ramco and AFI KLM E&M intend to facilitate with other aviation-related researchers.
P R Venketrama Raja, Vice Chairman & Managing Director, at Ramco Systems, said: "With its strategic location and business-friendly environment, Singapore is growing in prominence as a preferred investment hub. We are happy to have partnered with Singapore EDB in setting up this co-innovation Lab, which will be the platform for developing solutions that can transform operations for the complete eco-system of the aerospace industry."
"We are pleased that Ramco has chosen Singapore to establish their largest Innovation Lab outside of India," said Lim Kok Kiang, Assistant Managing Director, Singapore Economic Development Board. "Through this Lab, Ramco will work with leading aerospace companies and airlines in Singapore to co-develop and catalyse lead adoption of transformative digital solutions. The collaborations will enable delivery of greater value and new services offerings for the industry from Singapore."
Franck Terner, EVP of AIR FRANCE KLM Engineering & Maintenance, welcomed the opening of the centre, saying: "We are proud to extend our R&D capability and anchor it in the heart of Singapore, one of the world's greatest innovation platforms. In being able to benefit from the combined expertise of two acknowledged MRO sector players, the MRO Lab Singapore will be able to offer in very short order innovative solutions that are likely to deliver real benefits to our clients."
Virender Aggarwal, CEO of Ramco Systems, said: "Innovation and disruptive technologies are key to the growth of the aviation MRO industry, where many manual procedures could be improved. This Lab positions us at the forefront of research in this sector, which will benefit airlines across Asia, if not the world. We are glad to have an anchor customer in AFI KLM E&M who shares the same passion to develop solutions that can transform operations in the aerospace industry."
"We intend to tap the brightest minds in Asian aviation to develop bespoke, future-ready IPs that bring MRO into the 21st century. Our heartfelt thanks to the EDB and AFI KLM E&M for their support," he added.
About Ramco Systems:
Ramco is a fast growing enterprise software player disrupting the market with its multi-tenanted cloud and mobile-based enterprise software in the area of HCM and Global Payroll, ERP and M&E MRO for Aviation. Part of the USD 1 billion Ramco Group, Ramco Systems focuses on Innovation and Culture to differentiate itself in the marketplace. On Innovation front, Ramco has been focusing on moving towards Cognitive and Robotic ERP with features such as Mail It – a feature which enables users to transact with the application by just sending an email; HUB It - a one screen does it all concept built to address all activities of a user; Thumb It – mobility where the system presents users with option to choose rather than type values and Prompt It – a cognitive ability which will let the system complete the transaction and prompts the user for approval.
With 1600+ employees spread across 20 offices, globally, Ramco follows a flat and open culture where employees are encouraged to share knowledge and grow. No Hierarchies, Cabin-less Offices, Respect work and not titles, among others are what makes the team say, Thank God it's Monday!
Winner of ISG Award for Innovation; Chosen as Preferred Next-Gen MRO IT Vendor by ARSA; Winner of HR Vendors on the Year Award 2015; Winner of CIO Choice Honor & Recognition 2016
For more information, please visit http://www.ramco.com/aviation
Follow Ramco on Twitter @ramcosystems
For further information, contact:
Vinitha Ramani
+91 44 3090 4204
vinitharamani(at)ramco(dot)com