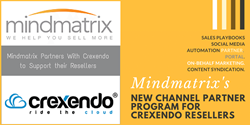 Mindmatrix will officially announce the new Channel Partner Portal at the upcoming 2nd Annual Crexworx Conference in Scottsdale, AZ, February 21-23.
Pittsburgh, PA (PRWEB) February 19, 2016
Mindmatrix announced that it is partnering with Crexendo to support their resellers with a new Channel Partner Program. This program will help Crexendo resellers enable their sales teams to sell more through the enabling power of Sales Playbooks, Social Media automation, and much more.
Unlike a generic partner support program where all that channel partners ever receive are probably a bunch of sales and marketing materials to push the services/products of the parent company, the Mindmatrix-Crexendo channel partner program is devised to support channel partners throughout the sales cycle. Starting from the onboarding process, resellers receive Sales Playbooks covering everything they need to truly understand the best sales practices that will drive Crexendo sales. They get automated social media marketing tools to be sure they can be active on this critical sales platform without draining sales and marketing resources, as well as lead generation, nurturing tools and much more.
Mindmatrix is also joining Crexendo at the upcoming 2nd Annual Crexworx Conference in Scottsdale, AZ, February 21-23, 2016. The new Channel Partner Portal will be officially announced at the Crexworx Conference.
Cassandra Anderson, Director Channel Sales for Crexendo stated, "Partnership tools, such as our new Channel Enablement Portal from MindMatrix, will help our channel partners grow their business. We feel that delivering overall business value strengthens our partnerships and will increase long-term partner engagement and mindshare."
Harbinder Khera, CEO, Mindmatrix believes that this is a win-win for everyone. "It's just one more example how Mindmatrix is helping firms enable their channel partners and resellers to drive revenues to new levels. We want to take this channel partner program to multiple industry verticals and help companies engage their channel partners better and sell more," he said.