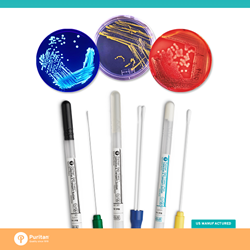 "The development of Opti-Tranz™ came from a desire to better serve our customers"
Guilford, Maine (PRWEB) February 25, 2016
Puritan Medical Products, North America's largest manufacturer of swabs and specimen collection devices, is pleased to announce Opti-Tranz™ and Opti-Tranz™ Plus, a brand new line of traditional liquid and agar gel collection and transport systems for bacteriological applications.
Available with a variety of tips and handles, this system pairs traditional transport medium options with innovative swab technologies to facilitate the collection of specimens from various sites of a patient.
The Opti-Tranz™ Plus line is the only one of one of its kind to pair innovative flocked swab technology with traditional liquid mediums.
"The development of Opti-Tranz™ came from a desire to better serve our customers," said Timothy Templet Executive VP of Global Sales. "Puritan has always focused on innovation and advancement; but these more traditional mediums were a hole in our product catalog that our customers wanted to see addressed. You asked, and we answered."
With the introduction of this new line, Puritan has further expanded its extensive line of specimen collection devices to make their products more universally accessible and useful. Now Puritan customers can purchase all their specimen collection tools from the same place.
About Puritan
Puritan Medical Products Co., LLC, is an American company known worldwide as the trusted manufacturer of single-use products for the healthcare, diagnostic, forensic, critical environment, food safety, and drug manufacturing industries. Puritan manufactures all of its flocked swab products in their Guilford, ME, U.S. facility.