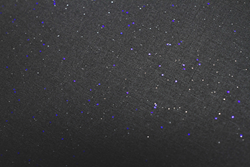 Church Hill, TN (PRWEB) February 20, 2016
Holliston, the leading United States- based manufacturer of distinctive and durable cloth material, announces six exciting glitter options in its Arrestox line. Creating a thrilling visual experience is easier than ever with just adding a little glitter to your next project; Extravagance, Across the Universe, Spotlight, Radiance, Delight and Titanium.
Arrestox Shimmer, radiant, fascinating and energetic. The exciting look of shimmer will give your next project that unique edge that will set your design apart from the rest. Arrestox is very durable, but also easily decorates and can accommodate a wide variety of printing, embossing, foil/pigment stamping, die-cutting and can easily be laminated to board, doubling the scope of possible applications.
"The introduction of the addition of glitter to our cloth products is a direct response to our luxury packaging, book & publishing and yearbook customers for fashion and trendy options supporting their desire for product differentiation", said Sheldon Sillyman, V.P. of Product Development.
Arrestox is a cotton cloth often used for an assortment of cover applications, specialty containers and mechanical binding applications when packagers want to make a striking first impression. Well known brands such as, Michael Kors, Bob Marley and GapBody took their design to the next level by turning to cloth for the open-weave and tactile appeal.
Holliston's 180 acre- campus in Church Hill, TN houses manufacturing, warehousing, pilot plant and research laboratory.
For more information about Holliston's vast array of durable, decorative, brand building cloth material contact them at 800-251-0451 or http://www.holliston.com.