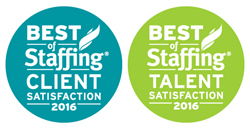 "Attention to detail is of the utmost concern with In-Flight Crew Connections!" -client testimonial-
Charlotte, North Carolina (PRWEB) February 19, 2016
In-Flight Crew Connections, corporate aviation's preeminent staffing firm, is pleased to announce they have won Inavero's Best of Staffing® Client and Talent Awards for providing superior service to their clients and job seekers. This marks the third consecutive year that In-Flight Crew Connections has achieved these recognitions.
In-Flight Crew Connections received satisfaction scores of 9 or 10 out of 10 from 82.2% of their clients across the forty-five states they currently serve - significantly higher than the industry's average of 27%. A testimonial from one of their clients said, "Attention to detail is of the utmost concern with In-Flight Crew Connections. I can rest assured that all of our needs are anticipated and met by their exacting staff." Another client said, "Fast, efficient, professional temporary staffing that requires very little training on our part. A very convenient alternative to staffing for our flight department."
In-Flight Crew Connections also received satisfaction scores of 9 or 10 out of 10 from 74.4% of their talent pool- higher than the industry average of 49%. In one of the surveys, a candidate commented "As a contract pilot I am very pleased with the support I receive from the Crew Scheduling Department. They go above and beyond to make sure everything is taken care of so that I can concentrate on providing a safe and enjoyable flying experience for the client. Great customer support from payroll and HR departments. Every aspect of the business is done in a professional and friendly way. Outstanding job!"
Presented in partnership with CareerBuilder, Inavero's Best of Staffing winners have proven to be industry leaders in service quality based completely on the ratings given to them by their clients and the permanent and temporary employees they've helped find jobs. With client and talent scores more than three times higher than the industry standard, award winners make up less than two percent of all staffing agencies in the U.S. and Canada.
"Leaders of growing companies are more committed than ever to staying flexible in this stable yet volatile market making staffing firms the most viable employment partnership," said Inavero's CEO Eric Gregg. "Finding the best staffing partner with a proven commitment to service excellence can be really tough. BestofStaffing.com is the place to find the winning agencies that place talent with the skills you need in your city or state. We are very proud of the 2016 award winners."
About In-Flight Crew Connections
In-Flight Crew Connections, a global leader since 2002, provides aviation industry staffing solutions for owners and operators of business class jets. Focused on developing customized solutions that meet the unique needs of corporate aviation clients, our range of services include: ONe-Call™ Temporary Crew Services - on demand supplemental staffing for pilots, flight attendants, schedulers/dispatchers, aircraft maintenance technicians and engineers, Payroll Services, Management Service, Recruiting & Placement, International Staffing, and Concierge Services. The company is a privately held, WBENC certified women-owned staffing firm headquartered in Charlotte, North Carolina.
To schedule staffing services with In-Flight Crew Connections, call (704) 236-3647. Visit In-Flight Crew Connections online at http://www.inflightcrewconnections.com and follow on Twitter,LinkedIn and Facebook
About Inavero
Inavero administers more staffing agency client and talent satisfaction surveys than any other firm in the world. Inavero's team reports on over 1.2 million satisfaction surveys from staffing agency clients and talent each year and the company serves as the American Staffing Association's exclusive service quality partner.
About Inavero's Best of Staffing
Inavero's Best of Staffing® Award is the only award in the U.S. and Canada that recognizes staffing agencies that have proven superior service quality based completely on the ratings given to them by their clients and job candidates. Award winners are showcased by city and area of expertise on BestofStaffing.com – an online resource for hiring professionals and job seekers to find the best staffing agencies to call when they are in need.
###