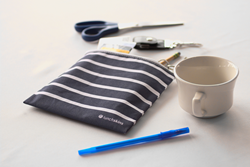 Bethesda, MD (PRWEB) February 23, 2016
3greenmoms has released a new line of Zip Lunchskins, stylish reusable bags that reduce single-use plastic waste. The zip feature aims to increase ease and usability in order to give consumers greener options that go beyond just school lunches. The zip bags will be available at national retailers as well as online.
The zip bags come in mini, small and medium sizes, with chic, modern patterns. They are featured in aqua, navy, and green, with stripe, chevron, and polka dot designs. Made of a cotton poly blend of fabric with PU coating, the bags are 100% food and dishwasher safe. The retail price of the Lunchskins zip bag ranges from $4.99 to $7.99.
"We designed the zip bags because our best customers kept asking for them year after year. I'm so glad we listened!" Said Kirsten Quigley, founder of 3greenmoms. With the new zip style, the bags can be used for anything, from sandwiches and snacks to everyday accessories. "My kids love them, my husband loves them….and all of us use them for different stuff- at home, school, work, even travel. They're so versatile and seem like a natural replacement for ziplock bags."
Less than 5% of the billions of plastic bags and bottles that Americans consume each year are recycled. These multi-use Lunchskins provide a greener solution that can make a big difference in reducing waste every day- Just one Lunchskins bag can replace 500 single use plastic bags.
LunchSkins is on a mission to replace everyday plastic with smart, sustainable solutions. Our reusable products have the potential to keep HUNDREDS if not THOUSANDS of plastic bags out of landfills, oceans and our future. Proof that everyday actions really do make a difference. To learn more about our story, products and partners, visit us at http://www.3greenmoms.com/lunchskins.