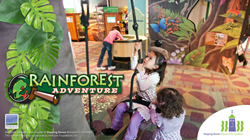 The fun doesn't end at 5:00 pm.
Norwalk, CT (PRWEB) February 18, 2016
Hang onto your hats, your birthday party hats that is! On Friday, March 11, Stepping Stones Museum for Children is bringing back a visitor favorite with a twist.
Visitors are invited to a Storybook Pajama Party on that day – which also happens to be the museum's Sweet 16 birthday! Attendees can come and relax in their PJs and enjoy birthday party stories and activities. Most exciting of all, honored guest Clifford the Red Dog will be there for photo opportunities. The museum's lovable mascot for literacy, Boo Zoo, will be there as well, posing for photos and enjoying the birthday vibes. Registration is required.
In addition, Stepping Stones Museum for Children would like to help the parents that have supported them. From 6:00 – 9:00 pm on Saturday, February 27, parents are encouraged to enjoy a relaxing night out knowing their children are in good hands at the museum. Even dinner is included! Registration is required for this as well.
Finally, Stepping Stones encourages both parents and children to check out Rainforest Adventure, a museum exhibit running through June 13. This multi-sensory expedition introduces visitors to tropical rainforests from around the globe, the challenges faced by these areas, and ways people can help to keep them from disappearing. Exhibit-goers can enjoy the following activities in Rainforest Adventure:

Climb a kapok tree that's 9 feet tall
Meet scientists and explore ways they study rainforests
Become a research assistant through assignments, costumes, and props
Take a closer look at plant and material slides through an oversized microscope
Study plant and animal life in the different rainforest layers
Weave on a loom
Climb through a tree log to discover animals that live there
Explore a gorilla nest
Discover products that come from tropical rainforests
Visit children around the world and learn how their families help protect rainforests
Learn what can be done to help protect rainforests
Rainforest Adventure, created by Stepping Stone Museum for Children, is partially sponsored by Horizon Foundation, Inc.
For more information about Storybook Pajama Party, Parents' Night Out, or Rainforest Adventure, please call the museum or visit its website.
About the Company:
Stepping Stones Museum for Children, celebrating its 16th birthday this year, is an award-winning, private, non-profit 501 (c) (3) children's museum committed to broadening and enriching the lives of children and families. Stepping Stones Museum for Children is located at 303 West Ave., Norwalk, CT, exit 14 North and 15 South off I-95. Museum hours are: Memorial Day through Labor Day, Monday-Sunday from 10 a.m.-5 p.m. and Labor Day through Memorial Day, Tuesday—Sunday and select holiday Mondays from 10 a.m.-5 p.m. Admission is $15 for adults and children and $10 for seniors. Children under 1 are free. For more information about Stepping Stones, to book a field trip or schedule a class, workshop or facility rental call 203-899-0606 or visit http://www.steppingstonesmuseum.org.