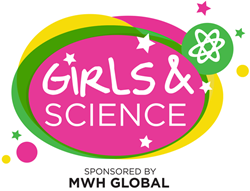 From a young age, girls believe they can do anything, and it takes a strong network of supporters to keep that belief alive
Denver, CO (PRWEB) February 22, 2016
The Denver Museum of Nature & Science and CBS4, KCNC-TV, will host and MWH Global will sponsor Girls and Science, a one-day event on March 5 from 9 a.m. to 5 p.m., at the Denver Museum of Nature & Science, 2001 Colorado Blvd. All ages are welcome, and activities will focus on children and teens ages 8-13.
The theme is "Science Clubhouse," which encourages girls to step into and explore careers in science, technology, engineering, arts and math through a unique spin on the traditional career fair. Guests will learn not only what clubhouse hosts do, but who they are and what inspires them through hands-on activities and conversations. Additionally, girls and their families can participate in activities that let them try careers on, test them out, and play.
"From a young age, girls believe they can do anything, and it takes a strong network of supporters to keep that belief alive," said Bridget Coughlin, the Museum's vice president of strategic partnerships and programs. "We want girls and their families and friends to experience Girls and Science together to reinforce the positive message that science is for girls and that they can and should continue to pursue their interests in STEAM."
"I can't wait for this event and am so honored to be a clubhouse host," said Lauren Whitney, CBS4 Meteorologist. "I wish I had been able to attend something like this when I was a little girl."
The event is open to all Museum visitors that day, and children and youths ages 3-18 will receive a discounted admission of $4. Scholarships are also available to cover admission costs; call 303-370-6000 or visit http://www.dmns.org/girlsandscience for details.
Girls and Science is sponsored by MWH Global, with support from Encana, SparkFun, School of Mines, Home Advisor, MapQuest, and Telemundo Denver.
Limited parking is available; please consider alternative transportation. For more information
about the event and to meet some of the Clubhouse scientists, visit http://www.dmns.org/girlsandscience.
About MWH Global
MWH Global is dedicated to Building a Better World. As specialists in water and natural resources, MWH employees use innovative ideas and technology to help solve complex infrastructure and environmental challenges. This work is built on a nearly 200-year history during which MWH has delivered services from initial planning and design through construction, start-up and operations. Today, MWH employs approximately 7,000 experts including engineers, consultants and construction professionals in 35 countries on six continents. Each of these experts is committed to serving global communities through sustainable development and project delivery. MWH is a private, employee-owned company headquartered in Broomfield, Colorado. For more information, visit mwhglobal.com or connect via Twitter, Facebook and LinkedIn.
About the Denver Museum of Nature & Science
The Denver Museum of Nature & Science is the Rocky Mountain Region's leading resource for informal science education. Our mission is to be catalyst and ignite the community's passion for nature and science. The Museum envisions an empowered community that loves, understands, and protects our natural world. As such, a variety of engaging exhibits, discussions and activities help Museum visitors celebrate and understand the wonders of Colorado, Earth, and the universe. The Museum is located at 2001 Colorado Blvd., Denver, CO, 80205. To learn more about the Museum, visit dmns.org, or call 303-370-6000. Many of the Museum's educational programs and exhibits are made possible in part by the citizens of the seven-county metro area through the Scientific & Cultural Facilities District. Connect with the Museum on Facebook, Twitter and Instagram.
About CBS4
CBS4, KCNC-TV—Denver, is part of CBS Television Stations, a division of CBS Corporation.