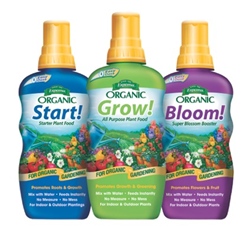 "These new liquid plant foods will produce results head and shoulders over any other brand on the market," says Jeremy Brunner, Espoma vice president.
Milville, NJ (PRWEB) February 23, 2016
Organically feeding plants just got way easier – and faster. Say farewell to messy measuring and that fishy smell of other organic, liquid fertilizers.
And say hello to Espoma's new line of liquid plant foods. Learn more about the new collection below.
Hello, Healthy. Espoma's New, Liquid Organic Plant Food. Here are a few reasons Espoma's new liquid plant line will become an instant favorite:

Instant Nutrition. Espoma's new liquid plant foods feed plants instantly – and organically.
Scientifically Magnificent. Espoma's new liquid fertilizers are scientifically proven to grow bigger, better plants with larger blooms. What gives them their mighty power? It's loaded them with kelp extracts, humic acids and beneficial microbes.
Less Mess. Ready, set, pop. The new Easy Dose cap on the Espoma liquid plant foods effortlessly measures each dose of fertilizer. No more messy bottles, measuring mistakes or spills.
Flip, Fill and Feed. Simply pop the lid, hold the bottle upside down and voila. The perfect amount of liquid fertilizer drops into a watering can.
Cause for Safe Paws. The new liquid fertilizers are 100 percent organic and safe to use around children and pets. Safe Paws approved.
Meet the New Liquid Plant Food Trio. Bigger, better plants are only a flip away.
Begin with Start. Flip open this starter plant food which helps plants get established fast while growing strong roots.
Go with Grow. Add this all-purpose, organic plant fertilizer to promote rapid root growth and encourage green foliage.
Boom with Bloom. Call in the super blossom booster which promotes and prolongs flowering while stimulating the growth of more blooms.
Try the Espoma new liquid organic plant foods with organic potting soil for super amazing results.
The Espoma Company is a fourth generation, family-owned business that has been the pioneer in organic gardening since 1929. Espoma products work in harmony with nature to grow beautiful lawns & gardens, preserve natural resources, and make a greener world for future generations. Espoma offers a complete selection of natural plant foods, lawn foods, control products, and potting mixes that are available nationwide. For additional information, visit http://www.espoma.com.