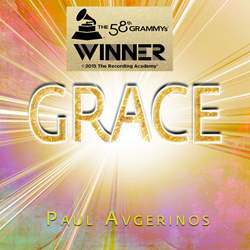 Avgerinos is one of the giants of New Age Ambiance - ALL MUSIC GUIDE
Redding, CT (PRWEB) February 19, 2016
In his "dream come true" acceptance speech for his 24th album GRACE, Avgerinos remembers the first New Age Grammy awarded back in 1987 and his hope to some day accept the prestigious award. "I never thought this could happen for me. This album carries forward the style of ambient new age healing vibrations from my previously well received albums LOVE and BLISS," says Avgerinos. Members of The Recording Academy embraced the popular album with a Grammy® win for Best New Age Album at the 58th Grammy Awards® on Feb. 15 at the Staples Center in Los Angeles, CA, and broadcast live on television by CBS.
Avgerinos expressed deep gratitude in his acceptance speech for the victory, thanking the host of Grammy winning artists that contributed to the project, the board and the voting members of the academy and his wife who was at home preparing to have their baby at any moment. He was clearly moved by the honor. "This album is an honoring and an offering to my Sat Guru AMMA and the Divine presence that has the power to transform and heal. This is unfathomable," he said.
Supported by an impressive cast of Grammy winning guest stars, including Ricky Kej, David Darling and Laura Sullivan, Avgerinos has crafted one of his best and most popular albums ever.
GRACE can be purchased from fine music stores everywhere, including Amazon and iTunes.
Media requests for interviews and album review copies may be directed to Paul Avgerinos at his studio 203-938-0069 or via email at: paul(at)roundskymusic(dot)com.
About the Artist
Paul Avgerinos is a GRAMMY® Winning Artist, Composer and Producer whose music is broadcast all over the world and has been heard by well over one billion people. Paul is very active in Film and TV music and has been involved in a number of platinum album productions. He lives and works in Redding, CT, where the deer pass by his studio windows and the hawks and eagles give inspiration from above