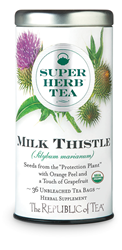 Novato, Calif. (PRWEB) February 29, 2016
The Republic of Tea, leading purveyor of premium teas and herbs, announces new additions to the collection of fortifying SuperHerb® Teas, organic Reishi Cocoa, organic Thai Ginger, and organic Milk Thistle SuperHerb Teas. The new Certified Organic SuperHerb® Teas are all-natural, caffeine-free, Certified Gluten-Free herbal teas that contain various nutrients and antioxidants. Each of these teas may assist in attaining peak performance, strength, longevity and can be an easy and satisfying part of a daily wellness regimen*. These new SuperHerb® Teas complement the other unique and innovative blends in the collection including Moringa, Baobab, organic Dandelion, and organic Elderflower.
The Republic of Tea's new SuperHerb® Tea blends pack a powerful punch of centuries-old herbal remedies and exotic ingredients into delicious teas that help boost health*.

Organic Reishi Cocoa SuperHerb® Tea – A tea for wellness. Discovered in the Changbai Mountains in China thousands of years ago, the Reishi mushroom has a reputation as a powerful anti-aging substance. Modern research demonstrates its antioxidant properties and its ability to stimulate brain activity. It can also relax the nervous system, inducing a state of calm alertness*. Taoists and monks refer to Reishi as an herb that nourishes the spirit. The Republic of Tea has combined it with cocoa for a smooth, full-bodied, relaxing cup. USDA certified organic.
Organic Thai Ginger SuperHerb® Tea – A tea for relief. Galangal root or "Thai Ginger" is a common ingredient in Thai soups and curries. It is very similar to common ginger but has a slightly lemony flavor and floral aroma. The Republic of Tea has added lemongrass to accentuate the citrus notes and honey flavor for a sweet finish. Like ginger, galangal has been used for thousands of years in Asia to help with digestion, nausea, and upset stomachs. USDA certified organic and Non-GMO Project verified.
Organic Milk Thistle SuperHerb® Tea – A tea for cleansing. Milk Thistle is named for the "milk" that exudes from the leaves when they are cut, but it is the seeds that have made their mark as an herbal remedy. They contain a compound called silymarin, which has been used for over 2,000 years in European cultures to help protect the liver from toxins. Milk thistle has also been used to help with hangovers and to increase breast milk production. Orange peel and grapefruit notes create a bright and cleansing cup. USDA certified organic.
Each tin of SuperHerb® Tea contains 36 tea bags and retails for $13.00. Milk Thistle and Organic Thai Ginger SuperHerb Teas are available now and Organic Reishi Cocoa SuperHerb Tea are available mid-March 2016 nationwide at natural and specialty food stores, through the company website (http://www.REPUBLICofTEA.com), mail-order catalogue and by calling 800.298.4TEA (832).
###
About The Republic of Tea:
The Republic of Tea enriches people's lives through its premium teas, education and innovation, as it emphasizes a "Sip by Sip Rather Than Gulp by Gulp" lifestyle. Founded in 1992, The Republic of Tea sparked a specialty tea revolution. Today the brand offers an unequaled selection of the highest-quality teas, herbal blends, books and nature-inspired sip ware, available exclusively at specialty retailers throughout the U.S. Further, The Republic of Tea is mindful of how its actions impact the greater community and actively supports worthy organizations like Action Against Hunger, The Ethical Tea Partnership, The Prostate Cancer Foundation, Xerces Society and The Whole Planet Foundation. Certifications include Demeter USA Certified Biodynamic, Fair Trade certification, Gluten-Free certification, Non-GMO Project verification, OU Kosher certification, Rainforest Alliance certification and USDA Organic certification. For more information, please visit http://www.REPUBLICofTEA.com or call 1.800.298.4832. Follow The Republic of Tea on Twitter at twitter.com/republicoftea and Like us on Facebook at http://www.facebook.com/RepublicofTea.
Contact Information:
Claire Storrs, Minister of Enlightenment, claire(at)republicoftea.com
5 Hamilton Landing, Suite 100, Novato, CA 94949 ~ Tel 415.382.3400 ~ Fax 415.382.3401 ~ http://www.REPUBLICofTEA.com