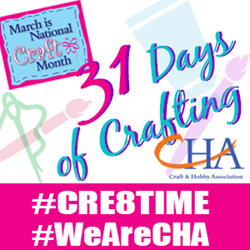 Elmwood Park, NJ (PRWEB) February 23, 2016
Running the entire month of March, National Craft Month was started in 1994 as a way for individuals to participate in hands-on activities, try a new skill and discover the benefits of creativity. National Craft Month has grown into an international celebration of inspiration, innovation and creativity with millions of participants underscoring the familiar and near-universal experience of making.
During National Craft Month creative businesses across the country offer product discounts, special classes, demonstrations, as well as tips and projects to help people unleash and cultivate their creative abilities.
In celebration of National Craft Month 2016, CHA will be featuring CHA members during a 31 Days of Crafting promotion. To see what CHA members will be doing to celebrate this special occasion, visit the CHA Blog (https://craftandhobby.wordpress.com) and all of CHA'S social media channels during the month of March.
"National Craft Month is a great time for everyone to celebrate creativity and the tremendous benefits of crafting," said Mark Hill, President & CEO, Craft & Hobby Association. "This year is no exception. We are excited to showcase how our industry celebrates and we encourage everyone to join us and express yourself."
For the 62.5 million people in the U.S. who participate in crafting activities, National Craft Month is the perfect opportunity to rediscover all that crafting has to offer. Whether you create to reduce stress, build self-esteem, or for the sheer satisfaction of creating – making something provides benefits beyond the finished project.
###
ABOUT THE CRAFT & HOBBY ASSOCIATION
The Craft & Hobby Association (CHA) is an international nonprofit trade association consisting of thousands of member companies engaged in the design, manufacture, distribution and retail sales of products in the worldwide craft and hobby industry. For more information about CHA, membership or its award-winning CHA Conference and Trade Show, visit http://www.craftandhobby.org.