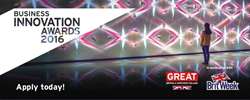 "This is about celebrating the innovative relationship between the US and the UK, and we want to hear from all the brilliant companies who are changing the world around them." Daniel Rutstein, UK Trade & Investment
Los Angeles, CA (PRWEB) February 18, 2016
BritWeek and the UK Government, in partnership with AFEX, announce that the seventh annual Business Innovation Awards are now open for nominations. The competition celebrates the outstanding creativity that results when UK and US businesses collaborate. Winners enjoy recognition in their industry and the opportunity to forge even stronger transatlantic links. Applications are open to US companies across the California, Nevada, Arizona and Utah region. Enter the competition at http://www.businessinnovationawards.org.
Innovative businesses in the UK and the southwest US are invited to apply in one of five award categories: Springboard Award, for a US company primed to expand its global presence; Best of British Innovation Award, for a UK company enjoying outstanding success in the southwest US; Innovation in Technology Award; Innovation in Services Award; and Innovation in Social Impact Award. Applications will close on Thursday, March 10, 2016.
"I'm excited that the Business Innovation Awards are back again—and bigger and better than ever," said Daniel Rutstein, UK Trade & Investment Regional Director, West and Central US. "This is about celebrating the innovative relationship between the US and the UK, and we want to hear from all the brilliant companies who are changing the world around them. I'm particularly pleased that this year we are adding a Best of British Innovation Award and celebrating the next crop of US investors into the UK through our Springboard prize. So if you work in innovation, care about the transatlantic economic relationship and want to showcase your ideas to our industry-leading judges, fill in an entry form and tell us your story."
"For ten years, BritWeek has celebrated the dynamic creative relationship between California and the UK," said BritWeek Chairman Bob Peirce. "Our Business Innovation Awards competition has always demonstrated the vitality of that relationship across many sectors of business, and I expect our Tenth Anniversary year to showcase some really extraordinary companies from both sides of the pond."
The award winners will be selected by a prestigious panel of judges including: Andy Bird CBE, Chairman of Walt Disney International; Andy Puddicombe, Founder of Headspace; Sir Ken Robinson, noted author, speaker and international advisor; and Sophie Watts, Film Producer and President, STX Entertainment.
The Business Innovation Awards will be presented during a dinner hosted at InterContinental Hotel Century City on April 27, 2016. Sponsors of the awards include AFEX, who is the presenting sponsor, InterContinental Hotel Los Angeles Century City at Beverly Hills, Air New Zealand, Truphone, and RSM US LLP.
"AFEX is thrilled to be a partner for the BritWeek/GREAT Business Innovation Awards," said Christian Spaltenstein, General Manager of the Americas for AFEX, a leading non-bank provider of global payment, foreign exchange and risk management solutions. "This will be our third year engaging with BritWeek and UK companies of the highest caliber and reputation, who share our passion for spurring cross-border trade and innovation."
2015 winners included Klickly, Talenthouse, 5D Global Studios at Wondros, and Kurion. In addition to the competitive awards, the Creative Fusion Award will be presented to an outstanding individual who represents the creative relationship between the US and the UK. Previous recipients include will.i.am, Simon Cowell, Paul Oakenfold, and Lucian Grainge.
When: All applications must be submitted by 11:59pm PST on Thursday, 10 March 2016
Where: For more information and how to apply, visit: http://www.businessinnovationawards.org
Editor's Notes:
The GREAT Britain campaign showcases the very best of what the UK has to offer and encourages people to visit, do business, invest and study in the UK. It unites the efforts of the public and private sector to generate jobs and growth for Britain.
For more updates on the Business Innovation Awards, follow us on Twitter @UKTIUSA and #GREATInnovators.
BritWeek is a non–profit organization that hosts a program of events every Spring to promote British creativity, innovation and excellence across multiple categories including, film & television, music, art, fashion, design, retail, sport, philanthropy, business, and more. The events take place throughout Greater Los Angeles, Miami, Orange County, Orlando, Miami and San Francisco! For more information visit britweek.org.
Established in 1979, AFEX is a leading global payment and risk management solutions provider that specializes in cross-border transactions and provides market expertise and unrivalled customer service for businesses and private clients. With a client base of over 25,000 active commercial customers worldwide, AFEX prides itself on tailoring its payment and foreign exchange services to meet its clients' needs. AFEX's online payment platform - AFEXDirect provides clients with one consolidated overview of their currency exposure and makes it easy for companies to manage international invoices. AFEX maintains offices across the Americas, EMEA and Asia Pacific. To find out more, please visit http://www.afex.com.