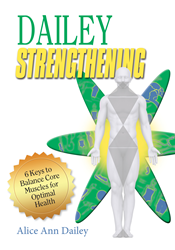 Alice Ann Dailey shows anyone, from Millennials to Baby Boomers, how to naturally "Restore Balance to the Core" for youthful looks and more active lifestyles!
Dallas, TX (PRWEB) February 18, 2016
When Alice Ann Dailey takes a student from weak to strong it doesn't take her very long! It's all about reprogramming core muscles to bring a body back to perfect balance and youthful movement. Dailey is a dancer by passion and a fitness guru by trade. She ran the Dallas Oasis Mind-Body Center for more than two decades and is now dedicated to helping everyone sustain their youth and regain the strength of their amazing, ageless bodies.
Alice Ann Dailey's new book Dailey Strengthening: 6 Keys to Balance Core Muscles for Optimal Health (Brown Books Publishing Group) shares her passion for teaching core strengthening exercises based on the "triangle" approach and healthy lifestyle principles to promote wellness and longevity by revealing proven anti-aging secrets emphasizing a mind-body connection.
With Dailey Strengthening, Dailey simplifies 20 years of insight working with well-known fitness pioneers including Hollywood's preeminent Pilates instructor Ron Fletcher who was trained by exercise innovator Joseph Pilates. What she has gleaned over her career working one-on-one with the best of the best, fitness trainers, trusted doctors and loyal students, is a wealth of proven techniques that anyone can use. She distills these methods into her 6 Keys to Balance Core Muscles for Optimal Health.
"Be a good friend and converse with your body," is Dailey's mantra. It starts with good posture and body awareness, a way to align the neck to the spine correctly, so ease of movement is sustained. With everyone slouching in chairs or hunched over computers and handheld devices suffering from tech neck and back discomfort, her advice on how to improve posture and avoid painful positions is needed more than ever. Dailey Strengthening author Alice Ann Dailey starred in a TV segment about maintaining better posture that aired on Friday, January 8, 2016 and is featured on the CW33 Eye Opener website: http://eyeopenertv.com/2016/01/08/ways-to-fix-bad-posture/.
Health and harmony is the goal with the Dailey Inner Core Workout's holistic approach to personal health, you'll learn how to care for and strengthen your entire body. Alice Ann Dailey's book outlines principles for good health and provides training with detailed, illustrated exercise plans. Dailey Strengthening not only improves strength and posture but also helps to regulate body weight, increase flexibility, and can even reduce joint pain. In honor of American Heart Month in February, Dailey shared valuable tips for keeping your ticker healthy with Women's Running magazine: http://womensrunning.competitor.com/2016/02/health-wellness/5-important-heart-health-tips-for-women_53793#RVLuIuruDdDG1cGx.03
In Dailey Strengthening, you'll find more than an exercise plan: you'll find the ingredients for a healthier body, a healthier mind, and a healthier lifestyle.
For more information about Alice Ann Dailey and Dailey Strengthening, please visit http://daileystrengthening.com
###
To schedule an interview with Alice Ann Dailey, please contact Anita Kasmar or Alicia Auping from The Agency at Brown Books, anita.kasmar(at)TheAgencyatBB(dot)com; alicia.auping(at)TheAgencyatBB(dot)com
For immediate release contact:
Anita Kasmar
Alicia Auping
The Agency at Brown Books
anita.kasmar(at)TheAgencyatBB(dot)com
alicia.auping(at)theagencyatbb(dot)com
972-381-0009
214.500.8157
http://www.theagencyatbb.com
About Brown Books Publishing Group (BBPG)
Founded by Milli Brown in 1994, Brown Books Publishing Group is a full-service, independent publisher of high-quality books across all genres. Committed to producing award-winning books for authors who choose to retain the rights to their intellectual property, Brown Books publishes more than one hundred titles a year and has won numerous prestigious awards, including the Writer's Digest Grand Prize, Mom's Choice Award, Foreword Book of the Year, Gold Ink Award, Axiom Business Book Award and many more. Brown Books authors have appeared on programs and networks such as the "Today" show, Fox News, "Face the Nation," CNN and BBC News. They have been featured in publications such as USA Today, Publishers Weekly, and The New York Times. In addition, BBPG authors have been guests on NPR programming, including "The Diane Rehm Show," "Morning Edition" and "The Takeaway." To learn more, visit http://www.BrownBooks.com and http://www.BrownBooksKids.com and http://www.BrownChristianPress.com.
About The Agency at Brown Books (ABB)
The Agency at Brown Books is a full-service public relations, marketing and branding firm within a publishing house. As a subsidiary of Brown Books Publishing Group, The Agency is backed by 20 years of excellence and experience, and the one-of-a-kind, integrated platform is available to Brown Books' authors as well as to non-affiliated authors, established writers, entrepreneurs, CEOs and anyone seeking smarter strategies for building their business. For more information, visit http://www.TheAgencyAtBB.com.