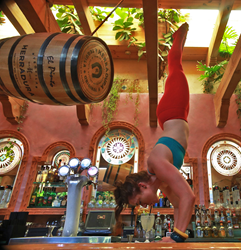 When things get a bit intense, participants are free to go into downward facing dog and grab a sip of the YogaRita margarita to take off the edge
Albuquerque, New Mexico (PRWEB) February 18, 2016
El Pinto Restaurant in Albuquerque celebrates National Margarita Day with YogaRitas®. This distinct style of yoga allows participants to detox while they retox. Each Sunday participants enjoy a laughter filled yoga flow while having the option to drink a margarita before, during, and after the yoga practice. It is a fantastic way to start Sunday funday. The YogaRita Margarita is low calorie, with fresh squeezed lime, and full of complexity created from a smokey mezcal float.
YogaRitas is lead by El Pinto's YogaRita Guru, Sydney Fontaine Forestal, who mixes yoga, barre, Pilates, and a splash of modern dance to keep participants laughing while their gluteus maximus screams. To keep things fun, a micro mini pig is a regular participant, and there is usually a little to much cowbell keeping rhythm with the music.
"YogaRitas is a distinct fun filled practice, all the while it is serious in its workout," explains YogaRita director Sydney Fontaine Forestal. She continues, "When things get a bit intense, participants are free to go into downward facing dog and grab a sip of the YogaRita margarita to take off the edge."
To celebrate National Margarita Day, El Pinto Restaurant and Cantina will honor happy hour prices on all margaritas all day Sunday and Monday. The Sunday YogaRita classes are at 10 a.m. and 11:30 a.m. Each last for an hour. Serving of the YogaRita margarita starts at 11 a.m. A $5 donation is requested for the class and El Pinto provides participants $5 off brunch and drinks, making the event essentially free.
No reservations are needed for YogaRitas. Enter the main entry of El Pinto and you will be directed to a dedicated heated patio to join 50 to 60 other YogaRita enthusiasts. No experience is necessary in yoga. Please bring a yoga mat, but El Pinto has a few on hand that can be borrowed.
Over the 53 year tradition of El Pinto, the restaurant has helped to put New Mexican cuisine on the map as it has prepared green chile based cuisine within the White House presidential kitchen and provided "take-out" direct to Air Force One on the tarmac in Albuquerque. In addition to serving presidents, cabinet secretaries and military generals, local residents continue to independently voted El Pinto Restaurant the Best New Mexican Restaurant for multiple years running as well as its patios as the Best in the City in the annual Albuquerque The Magazine readers poll. El Pinto's Red Chile Ribs were named in Food Network's Top 5 Restaurants as the #3 ribs in the nation.
About El Pinto Restaurant & Salsa Co:
Established 53 years ago, El Pinto is a quintessential icon for New Mexican cuisine. Conveniently located in the North Valley of Albuquerque just off I-25, the serene patios located under beautiful cottonwood trees provide an iconic experience. El Pinto is known nationally for its fire-roasted green chile and fresh flavorful salsa distributed across the nation in local grocery stores. The salsa and green chile factory is located on the same grounds as the restaurant. For an authentic taste of New Mexico, visit El Pinto for its fresh iconic food, traditional margaritas, and award winning chile. http://www.elpinto.com