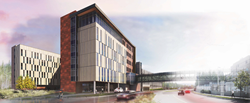 "WC&P's goal was to create a welcoming 'home-away-from-home' feeling for the many patients and their families who will be using the facility for years to come." -- Des Hague, Co-Founder of Aegis Enterprises and Partner of WC&P.
(PRWEB) February 24, 2016
Des Hague, Co-Founder of Aegis Enterprises and Partner of WC&P (formerly William Caruso and Associates) is pleased to announce that WC&P completed the food service design for the new patient housing at ANTHC's (Alaska Native Tribal Health Consortium) Alaska Native Medical Center (ANMC) in Anchorage, Alaska.
The new housing facility to be completed later this year will offer 170-plus rooms for patients and families that have to travel to ANMC for care. It will allow easy access to the ANMC hospital via a sky-bridge and provide a home-away-from-home environment for patients and families – more than half of Alaska Native Medical Center's patients must travel to Anchorage for care and services. For more information about this project: http://anmc.org/new-anmc-patient-housing/.
The foodservice equipment budget for the 9,000 sq. ft. kitchen and servery was in the $580K range. Special features to the Servery include a Stone Hearth Pizza station plus Deli, Pasta, Entrée, Grille, Salad Bar and Grab-n-Go stations.
"WC&P is delighted to have been chosen to work on this great project," stated Hague. "It was a pleasing initiative and our task was to ensure the end product complemented not only the natural beauty of the great state but offered a welcoming 'home-away-from-home' feeling to the many patients and their families who will be using the facility for years to come."
About WC&P:
WC&P, Inc. specializes in commercial food/beverage, laundry and solid waste systems planning and design services. Headquartered in Denver with offices in Athens, Berlin, Düsseldorf, Philadelphia, San Francisco and Scottsdale, WC&P has completed over 9,000 projects in 30 countries around the globe, an unmatched record in our very specialized industry. WC&P's diverse project portfolio includes completed food, laundry and solid waste systems facilities for hotels, universities, schools, correctional systems, hospitals, corporate headquarters, convention centers, stadiums, arenas, and others.
For more information about WC&P - http://www.wcandpartners.com
Contact: Renate Siekmann
William Caruso & Associates, Inc.
8055 East Tufts Avenue, Suite 1320, Denver, CO 80237
Phone: 303.649.1600 x211
Email: rsiekmann(at)wcandpartners.com
About Des Hague:
A renowned executive with over twenty-five years of leading global public and private companies, Des Hague has established himself as an innovative thinker in the international business world. His forward-thinking approach pushes companies toward sustainable growth, granting them a position as resilient competitors within their respective industries. Hague most recently was the CEO and President of Centerplate, Inc, the largest event hospitality firm in North America. source: http://deshague.com. Hague also serves on the boards of DVETelepresence, PING HD, WC&P, Froozer® and the Stamford Youth Foundation along with advising on several start-up ventures.
Along with his professional projects, Des Hague contributes significant amounts of time and energy to non-profit charitable work. Hague has helped raise more than $100 million over the past few years for many non-profits, including the Stamford Youth Foundation, a local organization offering multiple after-school programs for young people, and The Journey Home, a Baltimore-based Foundation fighting homelessness. Hague views AEGIS, LLC. as a perfect blending of business and philanthropic activities.
For more about Des Hague, visit: http://deshague.com, http://deshaguereviews.com
Des Hague - LinkedIn: https://www.linkedin.com/in/deshague
Contact:
DesHague.com
EMail: deshague(at)aegisenterprisesllc.com