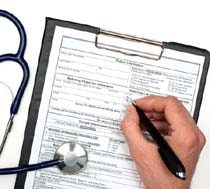 Our results confirm...factors associated with clinical benefit from chemotherapy, and emphasize the impact of histology and clinical benefit of chemotherapy on outcomes
Raleigh, NC (PRWEB) February 19, 2016
Scientists in New York say they have validated some aspects of the current mesothelioma prognostic scoring systems and offered new insights in a recently published paper on mesothelioma prognosis. Surviving Mesothelioma has just published an article on the new research. Click here to read it now.
Doctors at Memorial Sloan Kettering Cancer Center analyzed the cases of 191 pleural mesothelioma patients who were not candidates for surgery to get a better understanding of mesothelioma prognosis in the age of chemotherapy.
"Our results confirm the significance of elements of the Cancer and Leukemia Group B and European Organisation for Research and Treatment of Cancer prognostic scoring systems, identify factors associated with clinical benefit from chemotherapy, and emphasize the impact of histology and clinical benefit of chemotherapy on outcomes," writes lead author Andrea Bille, MD, now with Guy's Hospital in London.
The paper, presented at last year's meeting of the International Association for the Study of Lung Cancer, points out that previous prognostic scoring systems for malignant mesothelioma included many surgical patients, but improved chemotherapy means fewer mesothelioma patients are undergoing surgery.
"Having an effective, up-to-date prognostic scoring system for mesothelioma is so important, not only for patients' own understanding of their situation, but also for treatment planning," says Surviving Mesothelioma's Managing Editor, Alex Strauss.
To find out what factors the team says are key to overall survival in people with mesothelioma, see Modernizing the Process of Mesothelioma Prognosis, now available on the Surviving Mesothelioma website.
Source: Bille, A, et al, "Contemporary Analysis of Prognostic Factors in Patients with Unresectable Malignant Pleural Mesothelioma", February 2016, Journal of THoracic Oncology, pp. 249-255, http://www.ncbi.nlm.nih.gov/pubmed/26845118
For nearly ten years, Surviving Mesothelioma has brought readers the most important and ground-breaking news on the causes, diagnosis and treatment of mesothelioma. All Surviving Mesothelioma news is gathered and reported directly from the peer-reviewed medical literature. Written for patients and their loved ones, Surviving Mesothelioma news helps families make more informed decisions.