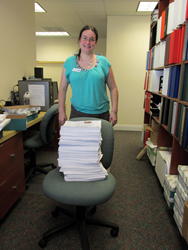 Lindsay Penney doesn't leave her job when her shift ends; she stays until the work is done.
Vero Beach, FL (PRWEB) February 25, 2016
Lindsay Penney doesn't leave her job when her shift ends; she stays until the work is done. As a part time office assistant at United Way of Indian River County, she is paid to work only half of the day— still, she stays long after her shift is over to volunteer for the organization. "Lindsay is a real fixture here," says United Way of Indian River County CEO Michael Kint. "She's very helpful."
Lindsay, who has a learning disability, began her career with United Way more than seven years ago as a volunteer. Lindsay loved volunteering but wanted to find a permanent position, so she came to Vocational Rehabilitation (VR), an agency that helps people with disabilities find or keep a job.
She met with VR Counselor Joanne Jung to create an employment plan, and the two hit it off from their first meeting. "I liked Joanne from the beginning, "Lindsay says.
Joanne had Lindsay complete a job-skills assessment, which revealed her excellent typing skills. With a typing speed of 70 words a minute, Joanne believed an office job would be a perfect fit for her. Lindsay began taking a few classes at Indian River State College to improve her office skills, and worked with SunUp ARC, another agency that helps people with disabilities, to develop her interpersonal skills.
Since Lindsay had been so helpful to United Way as a volunteer, counselors at SunUp ARC talked to Michael from United Way about offering Lindsay a part-time position. He agreed to give her a chance, and Lindsay began working as an office assistant.
Lindsay now works part-time answering the phone in the morning and then stays to volunteer in the afternoons. She is an all-purpose assistant, working wherever they need help. "We have 32 partner agencies," Michael explains. "Lindsay checks the press for any news about them and then scans in the stories for us. She may do nametags one day and check RSVPs the next."
The United Way staff is grateful to have Lindsay on their team. "She's well-liked and respected," Michael says. "Most of the staff doesn't even know she has a disability."
Lindsay's volunteering not only led to a paying job, it also led to a Presidential Volunteer Service Award in 2013. "I had put in so many volunteer hours that the United Way staff put in my name for the award. I got a certificate signed by President Obama," Lindsay explains. The office held a special ceremony to honor her for being such an outstanding volunteer.
Joanne is very proud of Lindsay and thrilled that she is doing so well in her job. "Lindsay is a lovely, young woman and a tremendous asset to the United Way. The growth that she has demonstrated has been amazing. She didn't want anything to do with the phones at first, but now she does it quite well, and she's extremely helpful. The United Way staff has been so supportive of her."
About Vocational Rehabilitation
Florida's Vocational Rehabilitation (VR) is a federal-state program committed to helping people with disabilities become part of America's workforce. The employer-focused website, https://abilitieswork.employflorida.com/, allows businesses to search at no charge for employees who are ready to go to work, as well as to post available jobs. VR has 90 offices across Florida, and last year helped 5,760 Floridians with significant disabilities find or keep a job. For more information about VR and its services, call (800) 451-4327 or visit http://www.Rehabworks.org.