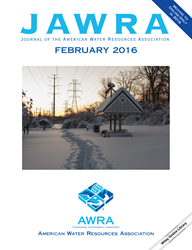 Middleburg, VA (PRWEB) February 22, 2016
The American Water Resources Association (AWRA), renowned multidisciplinary association for information exchange, professional development and education about water resources and related issues, has opened the first 2016 issues of both their bi-monthly magazine and journal for public download.
Water Resources IMPACT is a practical, solution-oriented magazine whose readers are primarily senior-level water resources managers, governmental personnel, consultants, and the university community who work directly with water management programs. Download the January issue of Water Resources IMPACT magazine.
The Journal of the American Water Resources Association (JAWRA) is a rigorous scholarly publication that focuses on emerging scientific, management, and policy issues related to multidisciplinary aspects of water resources. With a 50-year history, JAWRA publishes high quality journal articles from a wide range of disciplines for a multidisciplinary audience. The current Thompson Reuters Impact Factor of 2.0 reflects the growing influence of JAWRA within the water resources publishing community. Download one or all of the articles from the February issue of JAWRA.
About AWRA
Since 1964, American Water Resources Association (AWRA) has been dedicated to the advancement of water resources management, research and education, as well as a balanced approach toward solving water resources challenges. AWRA's membership is comprised of professionals who share a common interest in working and learning across a wide range of disciplines focused on water resources policy, practice and education. For more information visit http://www.awra.org.