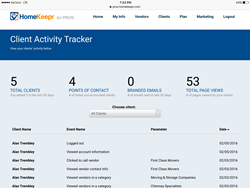 Today's tech-savvy, data-driven Realtor understands how powerful this is.
Lyndhurst, NJ (PRWEB) February 19, 2016
HomeKeepr announced today the release of its Client Activity Tracker, a powerful tool designed to give Realtors deeper insight into how their clients are using the HomeKeepr platform to discover local resources and connect with agent-curated, trustworthy home service professionals.
The Client Activity Tracker gives agents a view into precisely which clients are taking advantage of the HomeKeepr platform, how often they're engaging with it, and which home service professionals they're contacting. Real estate agents will be able to use this information to better anticipate the needs of their clients and connect with them when they can be of service. Realtors will also gain a better understanding of which home service providers are contacted most frequently and use that to ensure that the home service professionals continue to provide excellent service to their clients.
HomeKeepr allows agents and brokerages to harness their local expertise and make it available to clients through agent-branded mobile and web applications. Specifically, real estate professionals upload to HomeKeepr their trusted network of home service providers and then share this network with past clients and professional partners for use whenever there is a home maintenance need. HomeKeepr also provides monthly customized home maintenance tips that help homeowners maintain their properties while keeping agents "top of mind".
"Today's tech-savvy, data-driven Realtor understands how powerful this is," said HomeKeepr CEO, Rob Morelli. "At a very high level, agents will be able to see exactly how many times their branding has "touched" clients. Knowing how often your brand has been exposed to a client and in what context will drive other marketing and communication decisions for the agent, allowing them to work more efficiently and effectively. There are very few other technology solutions that can pinpoint precisely when you delivered real value to your client."
About HomeKeepr: HomeKeepr is the premier way for real estate professionals to stay connected to their clients and distinguish themselves from the competition. Clients are invited to download an agent's personalized app in order to receive the agent's directory of trusted home service providers and local businesses. Clients also receive monthly agent-branded home maintenance reminders, a set-it-and-forget-it way of staying top of mind and winning more referral business. For more information, visit http://www.homekeepr.com.