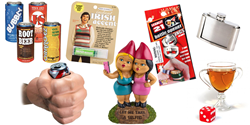 Stupid.com followed rainbows and searched through pots of gold to find these ridiculous gifts.
Los Angeles, CA (PRWEB) February 22, 2016
Cheers this St. Patrick's day with a green beer in The Giant Fist Koozie or some whiskey in The Belt Buckle Flask. Be even more festive and use a spray of the Instant Irish Accent Mouth Spray to get the best accent. Stupid.com followed thee rainbow to pick out these 7 Lucky Gifts.
Here are the 7 Lucky Gifts for St. Patrick's Day 2016 from Stupid.com:
Hide a Beer Can Wraps-
Get an alcoholic fix while making others appear it's a sugar fix. These reusable can covers can turn a 12 ounce can or beer into an innocent can of soda.
Instant Irish Accent Mouth Spray-
Just one spritz of this spearmint flavored mouth spray and the phrase "Kiss me, I'm Irish" will have everyone convinced.
Belt Buckle Flask-
It holds up a quilt and some liquor, what a match made in Irish Heaven. This belt buckle discreetly holds 6 ounces of any spirit.
Giant Fist Koozie-
Nothing scares a lad more than a giant fist in a rowdy pub. This giant fist koozie is easy to grip, holds a standard 12 ounce can/bottle and can keep a beer cold.
Ring Beer Bottle Opener-
No need to turn kitchen drawers upside-down! Always be ready to pop open a cold brew with this cool ring. Cheers to the best bottle opener, ever.
Selfie Sisters Garden Gnome-
This Gnome makes a perfect gift for that selfie whore we all know and love. Place this statue in a garden or front lawn to get endless likes and comments.
Trophy Shot Glass-
Make momma proud and drink like a champ. Feel rewarded with this mini trophy-like shot glass that holds 1.5 ounces of any liquor.
All these gifts and more can be purchased at online Stupid.com
About Stupid.com 
Stupid.com has been spreading laughs one gift at a time since it burst onto the online retail scene in 1998. From great gag gifts to silly stocking stuffers, the company offers a diverse selection of over 4,000 products in 120 gift categories.