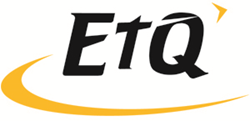 Not only has the Reliance Cloud Portal been met with great success, we are seeing how users can take this concept and build a compliance network within their supply chain with great success
Farmingdale, NY (PRWEB) February 19, 2016
EtQ, a leading provider of Quality, Environmental, Health and Safety Compliance Software Solutions, is pleased to announce that its Reliance Cloud Portal offering has been met with tremendous success.
EtQ's Reliance Cloud Portal provides a safe, secure way for users to extend their processes to external parties, such as suppliers and customers. It allows these third parties to be involved in an organization's workflow process without having direct access to the network, providing a secure method for increasing collaboration.
Some innovative ways the Reliance Cloud Portal has been implemented include:

Use as a single, global source for post-market feedback
Conducting audits through the cloud with the supply chain
A centralized complaint handling system that supports global use
"EtQ is proud to foster not just quality, safety and compliance through its modules and applications, but also innovation" says EtQ's Glenn McCarty, chief executive officer of EtQ. "Not only has the Reliance Cloud Portal been met with great success, we are seeing how users can take this concept and build a compliance network within their supply chain with great success."
About EtQ
EtQ is the leading Quality, EHS, and Operational Risk and Compliance management software provider for identifying, mitigating and preventing high-risk events through integration, automation and collaboration. Founded in 1992, EtQ has always had a unique knowledge of Quality, EHS and Operational Risk and Compliance processes, and strives to make overall quality operations and management systems better for businesses. EtQ is headquartered in Farmingdale, NY, with main offices located in the U.S. and Europe. EtQ has been providing software solutions to a variety of markets for more than 20 years. To learn more about EtQ, visit http://www.etq.com or blog.etq.com.