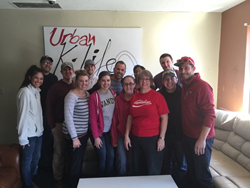 We're very fortunate to have so many employees committed to making a difference in the lives of people in the St. Louis area.
St. Louis, MO (PRWEB) February 19, 2016
Larson Financial Group (LFG) is always striving to make a difference, whether it is in the workplace or within the community. On an early Saturday morning, the organization participated in several service projects during their annual winter conference held the weekend of January 29 through January 31. The employees of Larson Financial Group visited four local non-profit organizations, including: Restore St. Louis, Urban K-Life, Gateway 180 and Covenant House.
Restore St. Louis is a network of Christian ministries that moved into abandoned neighborhoods to help reestablish homes that are uninhabitable. A group of LFG employees helped gut this home for a couple who will be moving to the neighborhood, so it can once again be livable. They worked together to pull carpet/padding, clean the basement, replace cabinets in the kitchen and tear out a bathtub and replace it with a handicap accessible shower. Other employees spent the day at Gateway 180, a shelter for women, children and families experiencing the burden of homelessness. Over this particular weekend, Gateway 180 was hosting about 130 people. The LFG team was able to go in and paint three bedrooms, the entryway and the café.
Urban K-Life brings hope to urban teenagers one relationship at a time through outreach, fellowship, mentoring and discipleship. LFG employees repainted their club room, organized storage, cleaned up the remains of recent pipe damage and deep-cleaned their kitchen. Meanwhile, other employees volunteered at Covenant House, an open intake agency committed to providing help and hope to young people ages 16-21. This group of LFG employees were able to help fold, hang up and organize a large amount of donated clothes and personal items. They also organized flyers, frames and other items so Covenant House is ready for future fundraising events.
"Every year during our winter conference, we always try to think of ways to impact the community that has allowed us to grow and flourish," said Paul Larson, Founder & CEO of Larson Financial Group. "We're very fortunate to have so many employees committed to making a difference in the lives of people in the St. Louis area."
About Larson Financial Group
Larson Financial Group, LLC has offices nationwide serving over 4,000 doctors in regards to many aspects of their finances. Using a personalized, comprehensive planning approach, their primary goal is to help doctors navigate through their many unique financial options. Larson Financial Group is a part of the Doctors Only network, a network for doctors nationwide.