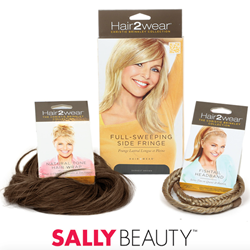 LENEXA, KANSAS (PRWEB) February 24, 2016
The Christie Brinkley Collection by Hair2wear announces the expansion of their product assortment on sallybeauty.com and at Sally Beauty stores nationwide.
Customers are now able to choose from five styles, available in a variety of natural colors ranging from light blonde to almost black. In addition to the clip-in 16" Hair Extension and The Pony™, Sally Beauty stores will now also carry a braided Fishtail Headband, Full Sweeping Side Fringe, and Natural Tone Hair Wrap. The styles will be available at more than 2,200 Sally Beauty stores across all 50 states, Puerto Rico, Canada, and online at http://www.sallybeauty.com/hair2wear.com.
The Christie Brinkley Collection allows users to flirt with fun new styles without making the commitment to a new cut or color. The Fishtail Headband secures the timeless style of a fishtail braid to an elastic band. This hair accessory is easy to use as a headband or a wrap, creating the illusion of an expertly executed mini fishtail braid without any of the work. The Full Sweeping Side Fringe is a clip-in hairpiece that creates bangs in an instant. It angles and frames the face to create a trendy look, and the best part is that women don't have to commit to the cut. The fifth style in Sally Beauty's new assortment, the Natural Tone Hair Wrap, allows wearers to create the popular "messy bun" look without the hassle. The perfect up-do style has never been easier or more attainable!
Sally Beauty offers the fashion-forward hair extension line in up to six subtly highlighted shades. The heat-friendly hair extensions are made with Excelle™ synthetic fiber, which can be heat-styled using curling or flat irons with a temperature setting of 300 degrees Fahrenheit.
About Hair2wear
Hair2wear specializes in trendy, high-quality hair products including extensions, clip-in bangs, hair wraps, and braided headbands; the company's offerings include a collection of alternative hair products designed and worn by supermodel Christie Brinkley. Hear2wear offers beautiful, natural-looking products made with the latest technology, at prices to suit any budget. To learn more about the Christie Brinkley Collection by Hear2wear, please visit http://www.hair2wear.com.