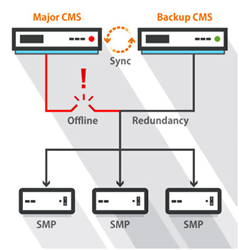 CAYIN's Redundancy program has great benefits to a stable digital signage playback environment.
Taipei, Taiwan (PRWEB) February 22, 2016
Backing up a server has great benefits to a stable playback environment when it comes to digital signage. CAYIN Technology has recently released its long-asked-for server Redundancy program, otherwise known as Failover Solutions. The feature is available on all across the version 9.0 CMS servers.
To enable the Redundancy feature, users can purchase 2 identical servers, or simply add a second server (of the same model and firmware version) to an existing network. The second unit will act as a 24/7 safety net should anything happens to the main server. If an outage occurs on the main server, the backup server will automatically take over the connection, and vise versa. The redundancy status can be easily monitored from both the backup and major server dashboard.
About the service
CAYIN's Redundancy is essentially a backup process for preventing data loss and service outage. Redundancy service provides a more secured playback environment for the SMP players managed by a CMS server, by constantly syncing all the settings and contents into a backup CMS server. Whenever a Major CMS is offline, or unable to connect to its SMP players, the backup server will automatically divert the connection until the Major CMS becomes available again.
Users are welcome to explore more about CAYIN's Redundancy program at: http://www.cayintech.com/digital_signage_products/redundancy_failover.html
CAYIN Technology in Brief
CAYIN Technology offers a complete portfolio of appliance-based digital signage solutions, including media players, servers, and software, for various commercial applications, such as education, transportation, retail, hospitality, corporate use, and financial and public institutions. CAYIN is dedicated to being a reliable partner to its clients worldwide and has successfully set up various application references globally. In order to best facilitate the deployment of CAYIN products, the company also provides tailored services to satisfy the ever-growing market demand for almost limitless applications.
Media Contact
CAYIN Technology Co., Ltd.
Alison Shih
Tel: +886-2-2595-1005 ext. 285
Fax: +886-2-2595-1050
Email: press@cayintech.com
Address: 8F-2, No. 577, Linsen N. Rd., Taipei City 104, Taiwan