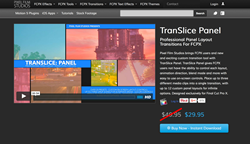 This great FCPX Transition makes it easy to change the layout.
Aliso Viejo, CA (PRWEB) February 22, 2016
Pixel Film Studios brings FCPX users a new custom transition tool with TranSlice Panel. TranSlice Panel gives FCPX users the ability to control each layout, animation direction, blend mode and more with easy to use on-screen controls. Place up to three different media clips into a single transition, with up to 12 custom panel layouts for infinite options. Designed exclusively for Final Cut Pro X.
TranSlice Panel includes over 30 different presets with complete customizable layout options.
TranSlice Panel is a transition tool that is simply applied between two media clips. FCPX users can stretch each transition to the desired length and apply alternate media into as many as three different drop zones, giving each transition its own feel and style.
TranSlice Panel is the ultimate tool in creating unique panel style layouts with editable titles in each preset. All the custom control options any filmmaker could want are included. FCPX users can modify the blend modes in each layout and apply a unique tint to each individual panel. All Kinetic animations are simply selected from a drop down menu.
TranSlice Panel is a new Transition pack designed specially for Final Cut Pro X.FCPX users apply the transitions to the timeline between each media clip, and stretch it to the appropriate length. Custom on-screen controls and indicators are visually represented to help the users modify each transition in real-time. These transitions work with photos and video, and are easily applied.
Established in 2006, Aliso Viejo, California-based Pixel Film Studios is an innovative developer of visual effects tools for the post-production and broadcast community. Their products are integrated with popular non-linear editing and compositing products from Apple FCPX. Apple, the Apple logo, Mac OS X, and Macintosh are registered trademarks of Apple Inc. in the U.S. and/or other countries. All other trademarks and trade names are the property of their respective owners.