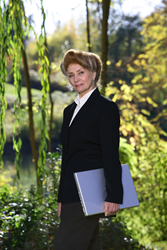 Grants Pass, OR (PRWEB) February 19, 2016
With all the recent reporting about the Flint, MI, water crisis, water advocate and radio host Sharon Kleyne finds it interesting that not one presidential candidate has addressed the issue of water security. Kleyne has long advocated that the No. 1 priority of every local, regional and national government in the world must be water supply and safety. Safe and abundant water, says Kleyne, is critical not only for human health and survival but for all economic development.
Kleyne recently discussed Flint, MI, water safety and security and national water policy with Climate Scientist L. DeWayne Cecil, Ph.D., on the Sharon Kleyne Hour™ Power of Water® radio show of Feb. 15, 2016. The globally syndicated, education oriented show is heard weekly on VoiceAmerica (Health and Wellness, and Variety Channels) and Apple iTunes. For podcasts of past shows, go to http://www.voiceamerica.com/show/2207/the-sharon-kleyne-hour
Sharon Kleyne Hour® Power of Water® is sponsored by Bio-Logic Aqua® Research Water Life Science®, founded by Kleyne and specializing in fresh water, the atmosphere, body surface evaporation, dehydration and education. The Research Center's signature product for dry eye is Nature's Tears® EyeMist®.
L. DeWayne Cecil, Ph.D., is a Climate Scientist formerly with NASA, NOAA and the USGS. He is currently Chief Climatologist with Global Science and Technology, Inc., and Founder and Principal Scientist with Sustainable Earth Observation Systems, Waynesville, NC. Cecil has worked closely in the past with Western Governors on resolving regional water supply and distribution issues.
The situation in Flint, according to Cecil, was caused by well meaning people trying to save money for a town with major financial problems and was a case of many small errors compounding into a giant scandal. The city believed it could save $15 to $20 million a year by switching from Lake Huron water purchased from Detroit, to water from their own Flint River, run through a local processing plant.
The problem, said Cecil, was that Flint River water, while just as pure as Lake Huron water, had a slightly lower pH (acidity-alkalinity rating), a problem that could have been corrected with an expenditure of less than $100 a day by the local purification plant.
Because of the water's slight acidity, Cecil explained, it become corrosive to the city's iron pipes and to lead pipes and fixtures in the city's many older houses. Corroded iron turns water orange. Corroded lead is highly toxic, especially to children.
Flint, a city of 100,000, has 9,000 residents under 6 years of age, said Cecil. Of these, 40 to 50 showed elevated lead levels in their blood, which could create problems for the rest of their lives. Kleyne notes that most U.S. residents don't drink enough water, which would increase their susceptibility to lead exposure.
Kleyne and Cecil expressed concern that water only becomes a political issue in the U.S. during crises such as Flint or the recent California drought. With climate change, global warming and the emergence of mega-cities, the water crisis potential is increasing worldwide.
Kleyne has always believed that a safe, stable and affordable water supply should be the No. 1 priority of every government in the world. An example of a successful national water policy is the tiny Island nation of Singapore. Despite being the world's second most densely populated nation (after Monaco), Singapore has gone from being 100 percent dependent on water from Malaysia, to virtual water independence.
Singapore's strong commitment to water recycling technology, Kleyne noted, has virtually eliminated the need to constantly import water.
The water access and safety problem is worst in rural villages in underdeveloped countries, where thousands of children die each day from water related illnesses. However, Kleyne noted, much of the U.S. is also vulnerable to extended drought or compromised water safety.
Cecil observed that the U.S. has no national energy policy, climate change policy or water security policy. President Obama recently authorized $80 million to fix the problem in Flint but has never addressed water security on a Federal level.
While the Flint problem may be temporarily alleviated, the nation's extreme vulnerability remains. The irony, according to Kleyne, is that with a well planned national policy in place, there is more than enough water for everyone, even with climate change and global drought.
© 2016 Bio-Logic Aqua® Research Water Life Science®. All rights reserved.