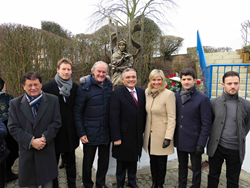 Azerbaijan comes to Europe with message of peace, kindness and love.
Waterloo, Belgium (PRWEB UK) 19 February 2016
The legacy of Khurchidbanu Natavan (1832–97) – Azerbaijan's most famous poetess – has been remembered with the unveiling of a sculpture in the famous town of Waterloo, located 29km from Brussels city centre and the site of Napoleon Bonaparte's final and most ignominious defeat in 1815. The commissioning of the sculpture and the unveiling ceremony on 18 February were organised by the Embassy of Azerbaijan to Belgium and the City of Waterloo, with the support of the Heydar Aliyev Foundation and Benelux office of The European Azerbaijan Society (TEAS). Around 100 diplomats, politicians, friends of Azerbaijan and press representatives attended the inauguration near the public library, which was followed by a reception accompanied by live music in Waterloo City Hall. Natavan was the most famous daughter of Shusha – a now devastated town in Nagorno-Karabakh that has remained under illegal Armenian occupation for over 20 years.
H.E. Fuad Isgandarov, Azerbaijani Ambassador to the EU, Belgium and Luxembourg described this day as one of the happiest in his life, and expressed his gratitude towards the City of Waterloo, especially Mrs Florence Reuter, Mayor of Waterloo, and Sir Yves Vander Cruysen, its First Alderman in charge of Culture and Tourism. He commented that such events would contribute towards strengthening the solid Azerbaijani–Belgian political and cultural relationship.
The event took place in the presence of young Azerbaijani sculptor Imran Mehdiyev – who realised the Natavan sculpture commission – who was described by the Ambassador as reflecting the new westward-facing Azerbaijani generation. Ambassador Isgandarov went on to explain the significance of Natavan, and how she embodies the positive role of women in Azerbaijani society, where all women over the age of 18 received the voting franchise in 1918 as a precursor of many European countries.
He concluded with a strong message addressed to the population of Belgium and across Europe, saying: "Azerbaijan comes to Europe with message of peace, kindness and love."
Speaking after the screening of a short documentary on Azerbaijan, Mayor Reuter emphasised the multiculturalism of Waterloo, which is home to over 100 nationalities, and explained that this event was made possible in the framework of the city's annual cultural partnership with overseas nations. She explained that Waterloo had previously demonstrated its interest in Azerbaijan when young Azerbaijani painters were offered the opportunity to showcase their work in a famous art gallery last year. She also praised Natavan for the quality of her poetry and the causes for which she fought, especially regarding the improvement of women's conditions in the 19th century.
Marc Verwilghen, Director, TEAS Benelux, described Azerbaijan as a 'pearl in the Caucasus', despite being relatively little-known in Europe. He commented that writers had discussed the country since antiquity, and that Alexandre Dumas (author of 'The Three Musketeers' and 'The Count of Monte Cristo') had famously visited and written on Azerbaijan, and had met Natavan in Shusha.
Strategically and geopolitically located between Europe and Asia and along the famous Caravanserai and Silk Road, he explained: "Azerbaijan is historically the cradle of our own civilisation."
He then commented on the extraordinary modernity of Azerbaijan, where the first opera of the Muslim East – Uzeyir Hajibeyli's 'Leyli and Majnun' – was performed in 1908, and that it remains a secular Republic with an incredibly high degree of religious tolerance, despite being a Muslim-majority country. He predicted: "There is a lot to discover, and I foresee that, in a few years from now, the country will become an exotic new tourist destination – the place to be."
Speaking of Natavan, Mr Verwilghen mentioned that the sculpture was symbolically sublime and revealed the beauty of the country and its rich history. He continued: "The fact that a great artist, a progressive 19th century woman thinker, characterised by her love for humanity, friendship and compassion will remain amongst us in Waterloo, is not only an invitation to discover Azerbaijan, but also signifies the need for intense, close and successful cultural, economic and political collaboration."
He concluded: "May this gesture create a real circle of friendship between Belgians and Azerbaijanis, emulating that established by poetess Natavan in 1872. In order to achieve this, you can all count on TEAS' collaboration."